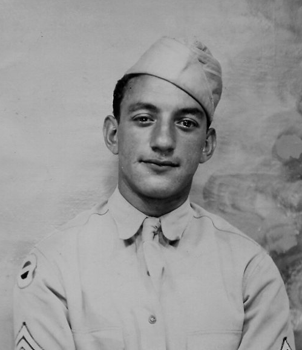 Michael DeFebio
Biography: Michael was born on May 13, 1918, in Providence, Rhode Island. He was the son of Geatano and Angelina DeFebio. Michael had three sisters, Phyllis, Lucy and Ann, a brother, Rocco, and a half-brother, Ferdinand. Michael married Olga on Jun. 25, 1942.
Service Time: Michael was a Staff Sergeant with the 643rd Tank Destroyer Battalion. He was part of 1st Platoon, Reconnaissance Co., which was ambushed near Barby, Germany, on April 12, 1945. Michael and four other soldiers were killed in action while scouting in front of the main body of the unit. They were looking for the enemy as well as mines and damaged bridges to find a clear route to travel. As they neared the Elbe river, in their M-8 Armored Car, their column came under machine gun fire and Michael was killed. Lew Reynolds, who was beside Michael in the turret was hit but not seriously wounded. Michael was awarded a Purple Heart and a Bronze Star.
Michael is buried in the American Military Cemetery in Margraten, Netherlands. His final burial was on Jan. 24, 1949. He is located in Plot E, Row 2 and Grave 7.
Michael is being honored by his sister, Lucy, and her husband Raymond Hurlbut.
The photo below was taken by Ben Savelkoul who is from the Netherlands and officially adopted Michael's grave in May of 2006, through the Margraten Foundation for Adopting Graves. As part of the adoption commitment, Ben visits the grave site regularly and lays flowers there on appropriate holidays and special days.