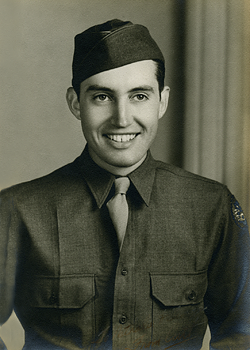 Charles C. Dike
Biography: Charles Curtis Dike, "Curt", was born on Feb. 22, 1921, in Oakland City, Indiana. His parents were John Thomas Dike and Evelyn Velora Masterson and he was the youngest of five children. John was the son of Conrad Dike and Rosa Jackle, Evelyn was the daughter of Richard J. Masterson and Suda Ferguson.
The family lived in Lamar, IN, for a time and Curt graduated Dale High School in 1938. He and his mother moved to Bloomington, IN, where he attended Indiana University. Prior to entering the service, he worked at Briggs (made car bodies) in Evansville and later worked at Maxon Const. Co. in Burns City.

Service Time: Curt attempted to join the Army in early 1942 but was denied since he was the sole support for his mother at the time. He returned to college and eventually entered the service in late '42. Inducted at Fort Benjamin Harrison in Indianapolis, he left right after Christmas and arrived at Sunnyvale, California, on December 28, for assignment to the Reconnaissance Company of the 607th Tank Destroyer Battalion. They trained at Camp Hood, Texas, Camp San Luis Obispo, CA, and Camp Ibis at the Desert Training Center in southern California. He was assigned to C Company when they converted to 3″ towed guns and back to Recon when they converted to the self-propelled M36 tank destroyer.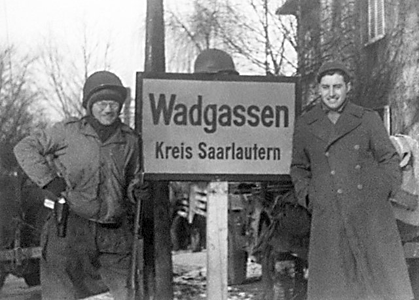 A few incidents stuck with him over the years. During the period when the unit was using towed 3" guns, a crew had been set up to guard an intersection. A German armored car came along and they fired at it. The round entered the front of the vehicle, hit the engine block, was deflected down, hit the pavement and came back up through the rear of the vehicle. It was a dud round. The Germans were able to jump out and run away. The gun crew would normally fire a High Explosive round to eliminate escaping personnel but they all stood there staring in disbelief. He operated radio's most of the time and was required to report in for his platoon each morning. They were issued code sheets regularly and each day had a different one. Early one morning, under his poncho in the field using a flashlight, he could not make sense of the response he was getting. He became worried that the Germans might be interfering and got the lieutenant to listen but he could not figure it out either. They eventually realized the guy on the other end was using the wrong day's code.
The photo above shows Curt, on the right, with his friend "Brownie" while their unit was in the Wadgassen, Germany, area.
Another time they were in a small village and had settled into the basement of a house for the night. Around midnight they received a radio call and were told to get out of there, now, and pull back! They returned through the same area a few days later and most of that house was demolished but he never heard what happened in that village. Curt was transferred to HQ Co, 771st TD Bn, on July 1, 1945, along with many other guys from the 607th. The 771st returned to the U.S. on Nov 29, docking at New York City aboard the USAT Edmund B. Alexander. He was discharged from the Army on Dec. 5 at Camp Atterbury, Indiana, at the rank of PFC.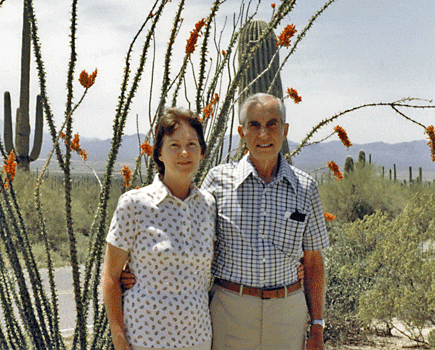 After the war he went back to his old job at Briggs the day after Christmas, 1945. Briggs was eventually acquired by Chrysler, beginning his 38+ year career with them. In 1949, he married Maeoma Angalea Phillips from Sullivan, Kentucky. She was the daughter of George Dewey Phillips and Alpha Lee Orr. They had two children, Steven born in 1949 and Patricia in 1950 and lived in Evansville. In 1959, Chrysler opened a new plant in Fenton, Missouri, west of St. Louis, and he chose to transfer there. The family eventually settled in Manchester, MO. He worked in the cost department at the St. Louis plant until his retirement in 1982. Curt and Maeoma traveled for many years after that, visiting all the states except for Hawaii. The above photo shows Curt and Maeoma at Saguaro National Monument in Tucson, Arizona. Maeoma passed away in 2006 and Charles in 2010. They are buried together at Jefferson Barracks National Cemetery in St. Louis County, MO.
I want to thank Curt's son, Steve, for writing the biography and service information shown above and providing photos of his father's original unit, the 607th. You can see more images of Charles C. Dike in the Photo Gallery for the 607th TD Bn in the unit section of this website.