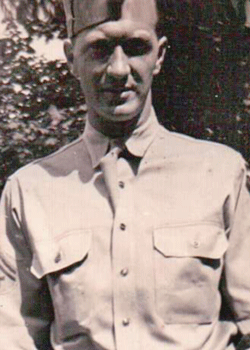 William J. Dunne
Biography: William J. "Red" Dunne was born on Sept. 9, 1916, in Brooklyn, New York. He was the son of William Patrick and Loretta Reilly Dunne. Bill attended local schools and completed one year of high school before going to work as an auto mechanic.
Service Time: Bill entered the service on May 26, 1942, and was assigned to Company A of the 609th Tank Destroyer Battalion. They landed at Utah Beach on September 20, 1944, equipped with M18's and went into Corps Reserve, beginning on the 28th, east of Moutier, France, where crews fired artillery missions through October. They then joined operations against Siegfried Line in November and early December. Most of Company C moved to Bastogne on December 18th with 10th Armored Division. The remainder of battalion fought along Sauer River and then the entire battalion fought to eliminate the Bulge in January 1945.
The 609th was then deployed to Saar-Moselle triangle in February and participated in the capture of Trier in March and supported the attack south and east out of Mannheim bridgehead across the Rhine in late March and April and reached southern Bavaria, near Füssen, by the end of the month. The 609th received credit for campaigns in Northern France, the Rhineland, the Ardennes and Central Europe. At some point, Bill served with Company C of the 811th Tank Destroyer Battalion, probably after the war had ended, due to not having enough points to ship home.
When Bill returned from the service he returned to his work as a mechanic and in a machine shop. He lived in Queens, NY and later Tucson, Arizona, and enjoyed gardening in his spare time.
Bill passed away in 1995 and was buried in Tucson.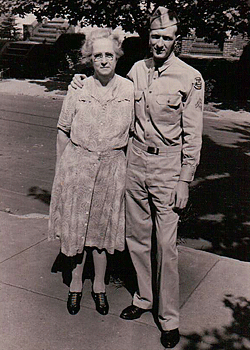 In addition to Bill's service in the Army, four other brothers served during WWII. Charles and Joe in the Army Air Corps, Charles stationed in England and Joe as a gunner on B-29's out of Guam. E dward in A Company of the 310th Infantry Regiment of the 78th Infantry Division and Bernard in the Merchant Marines as a nurse. Edward was the only one that didn't return, he was killed in Belgium at the Remagan Bridgehead.
The photo to the left shows Bill with his mother. I want to thank Bill's nephew, Ed Dunne, for providing this information and photos.