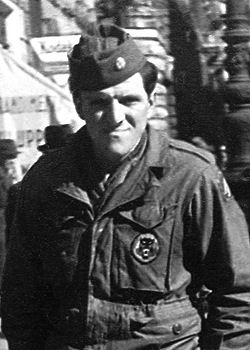 Samuel W. DeStephano
Biography: Samuel "Sam" William DeStephano was born on December 3, 1923, in Johnsonburg, Pennsylvania. He was the son of Joe and Lucy (Marasco) DeStephano, who were immigrants from Italy. He graduated from Johnsonburg High School in 1942, where he was an excellent student and Captain of the basketball team. Sam also played the French Horn in the Johnsonburg Citizen Band.
Service Time: Sam was inducted into the Army on February 9, 1943, when he was barely 19 years old. He was trained as a tank destroyer crewman and shipped overseas on May 2, 1944, arriving in the European Theater of Operations on May 27. He was assigned to Company A of the 804th Tank Destroyer Battalion, which had already trained French soldiers in Africa and landed in Naples, Italy. Sam saw some of the worst fighting in the war, taking part in all three of the unit's campaigns, Rome Arno, North Apennines and Po Valley, during which he lost much of his hearing in his right ear.
After the war, Sam told his younger brother, Joe, of an incident where U.S. Tank Destroyers were preparing to cross a bridge over the Po River. Sam's TD decided to pull off to fix their rear mud flaps, so another unit went ahead of them. Sam and his comrades watched in horror as that TD was blown up instead of theirs. One humorous anecdote he shared with his daughter, Laura, was while he was stationed in Italy, he and some of his unit went into a local store. The store owners were talking in Italian to each other, complaining about those %&*# G.I's. Sam, who was multi-lingual, listened innocently for awhile, and then began speaking Italian to the store owners. The clerks were shocked, and fell over themselves to apologize: "Oh my, you must have misunderstood us." Sam and his buddies laughed about that one for a long time.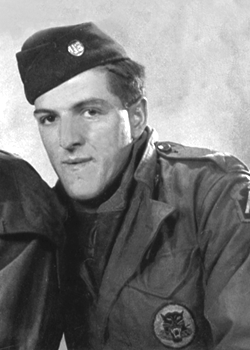 Sam and his older brother, Umbert, both served in the war. When they returned home, their mother noted that they often both had terrible nightmares. Sam never talked much about his war service, but he did take time to warn his younger brother, Joe, of the terrible things he would see before he shipped out to serve in the Korean War era. Sam later shared some experiences with his son, Mike. Sam received two overseas service bars, the American Service Medal, the Good Conduct Medal, the Victory Medal, and the European African Middle Eastern Service Medal with three bronze campaign stars. He was discharged as a Corporal on November 3, 1945, at Camp Hood in Texas.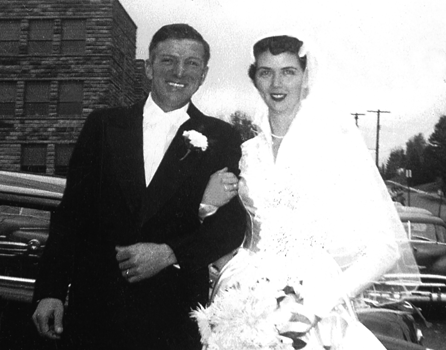 On October 16, 1954, at the age of 30, Sam married the former Alice Lecker who is the daughter of Philip and Mary (Wolfe) Lecker of nearby St. Marys. Sam and Alice remained on their honeymoon for 21 years and many people remarked how they looked up to them as role models on how to have a happy marriage. Together they lovingly raised two daughters and three sons….sadly the couple lost two other sons in infancy.
Sam worked at Penn Tech Company, "the paper mill", in Johnsonburg as a Maintenance Foreman and took numerous engineering classes through home study courses. He enjoyed carpentry and in 1968, he built a house next to Alice's parents. He also enjoyed mechanics, swimming, working on the farm, listening to the Pittsburgh Pirates with his sons and taking his family on vacations. He was a devout Catholic and a member of Holy Name Society. He was also a devoted family member, kneeling by his bedside every night to pray, taking good care of his widowed mother and watching out for his nieces and nephews. Sam had a warm smile, a beautiful singing voice and always extended a helping hand to his many friends. Friends remarked that "Sam would give you the shirt off his back". He was a true gentleman and was known for his compassionate and generous nature.
Sam died in 1975, at age 51, due to an accident at the paper mill. At the time his youngest child was only 21 months old and he was awaiting the birth of his first grandchild, who was born three months later. His sudden death left a big hole in the lives of all who knew him. To this day, people will come up to his children and tell them what a fine man their Dad was.
I want to thank Sam's daughter, Laura, for providing this information and the photos of her dad and men of the 804th.