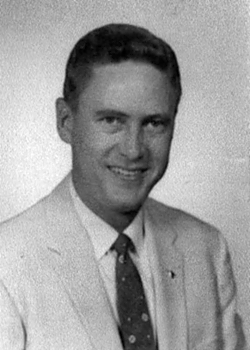 Harry D. Dunnagan
Biography: Harry Dutton Dunnagan was born in Winston-Salem, North Carolina on November 7, 1924. He was the son of Claude Vivian Dunnagan and Cora Blanche Royall and attended Yadkinville Elementary and High School.
Service Time: Harry entered the service on November 25, 1940, which was immediately following his birthday. His enlistment record states that he was 18 but he was really only 16.
Harry was assigned to B Company of the 813th Tank Destroyer Battalion and while stationed at Fort Bragg, NC, he served as a small arms instructor and driver trainer. The unit moved from there to New York for shipment to Europe aboard the SS Argentina. After a lay-over in Nova Scotia, the ship landed at Grenock, Scotland, in August of 1942. He served with the unit in North Africa and later landed at Utah beach pushing inland with the 79th Infantry. Harry was injured when he tried to crank-start a German truck and ended up with a broken arm. He was shipped back to England to recover. He was only there a month before shipping back to his unit by bumming rides wherever he could find them. Once back in his TD, they were hit twice by mortar fire and on one occasion, a time-explosion shell exploded over their turret and took the lives of two of their crew.
In a small town of the Haguenau Forest, Harry and four platoons of their unit along with their supporting infantry were forced to surrender and be taken to POW camps. During his captivity, he had one failed escape attempt and later volunteered to cut hair for extra soup. For three long months Harry remained a prisoner until American tanks liberated them on April 29, 1945.
Be An American First – Clipping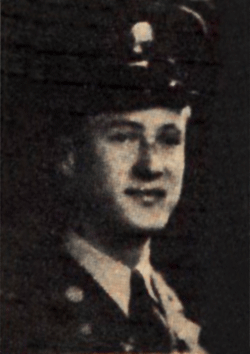 He received the EAME Theater medal with 4 Campaign Stars, the Good Conduct Medal, the American Defense Service Medal, and the Prisoner of War medal for Honorable Service while a Prisoner of War. He left the service at the rank of Staff Sergeant.
When he returned to the U.S., he entered Campbell College, finishing high school there before going on to attend the University of North Carolina at Chapel Hill.
On February 17, 1955, he married the former Flora Berniece Garrell from Tabor City, NC. She was the daughter of Clarence Dow Garrell and Bertha Elizabeth Johnson. The couple lived in a number of places, including, Tabor City, Whiteville, Wilmington, Yadkinville and Greensboro in North Carolina and Charleston, Myrtle Beach and North Myrtle Beach in South Carolina. They had one son, Clarence "Clay" Royall Dunnagan, born in 1963.
Harry worked as a radio ad salesman and announcer in Tabor City, Whiteville, and Myrtle Beach. While living in Greensboro and Wilmington, NC, and Charleston, SC he worked in TV advertising sales. In 1967, he built Radio Station WYDK in Yadkinville, NC, and operated it until 1972 when he received an FCC permit to build an FM radio station in North Myrtle Beach, SC. He then built and operated WNMB for ten years, before selling it and retiring…well as much as someone like Harry could retire.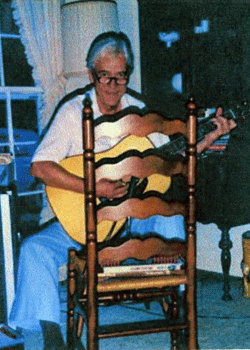 In his spare time, Harry enjoyed music, which included playing guitar and harmonica with small groups. He even did some recording for a few groups. He enjoyed inventing and creating, and was known for thinking "outside of the box".
Harry is also the author of the book "A War to Win", published in 1992, which is a collection of stories from men of Company B of the 813th Tank Destroyer Battalion. His wife tells me that the men who provided stories for the book didn't realize that Harry was going to publish them. The book is still available through Amazon by clicking here.

Harry passed away on December 21, 1993, and was buried at the Garrell Cemetery in Tabor City, NC. I want to thank Harry's wife, Berniece, for providing the above information and photos of Harry.