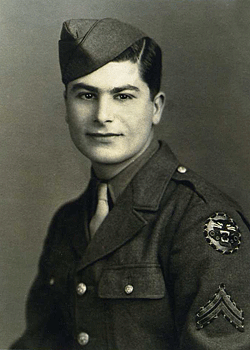 Filomeno D'Amicantonio
Biography: Filomeno "Phil" D'Amicantonio was born on May, 29, 1922, in Castelmauro, Italy, and came to the United States when he was four years old. He was the son of Angelo and Nazzarena (Pettinichi) D'Amicantonio and was raised in Wayne, Pennsylvania, with his younger brother Louis. He graduated from Radnor High School in 1941.
Service Time: Phil was inducted into the Army on January 6, 1943, at New Cumberland, PA. He then traveled to Camp Bowie, Texas for basic training and was assigned to Company C of the 817th Tank Destroyer Battalion. From there it was onto Camp Hood, TX, for advanced training. While at Camp Hood, the unit was converted into a towed TD battalion, as were other units, due to the poor showing of our TD forces in North Africa. The unit then moved to Camp Phillips, Kansas, and participated in the Tennessee maneuvers. Next, they moved to Camp Campbell, Kentucky and then Camp Breckinridge, which was also in KY.
In July of 1944 the unit sailed for the E.T.O. from Boston Harbor and landed at Grenock, Scotland. They then sailed to Chepstow, England and then across the English channel to France, landing on Utah Beach in Normandy on August 23, 1944. On December 9, 1944, the unit entered the Hurtgen Forrest for 60 consecutive days of combat. On March 15, 1945, the 817th crossed the Rhine River at Remagen on a pontoon bridge. They were the only towed TD Battalion to enter the bridgehead. The Remagen bridge later collapsed after numerous attempts by German planes to destroy it.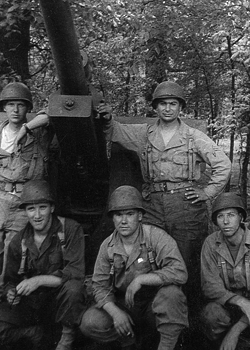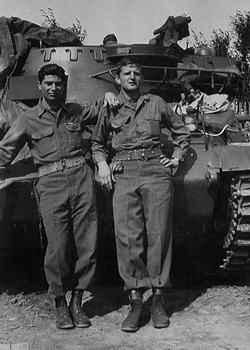 In April of 1945, the 817th was issued the new M18 "Hell Cat" Tank Destroyers. Cpl. D'Amicantonio was the main gunner assigned to the 3rd TD of Second Platoon of Company C. The unit was attached to several Infantry and Armored units ending with the 104th "Timberwolfs" Infantry Division. After helping to take the town of Halle, Germany, the 817th met up with the Russians at the Elbe River.
Cpl. D'Amicantonio participated in four campaigns including Northern France, Rhineland, Ardennes-Alsace and Central Europe. He was awarded the American Theater Medal, EAME Medal, World War II Victory Medal, Army Occupation of Germany Medal and the Good Conduct Medal. He also received a Certificate of Merit for Meritorious Service.
Newspaper Article about Certificate of Merit
Newspaper Article about brothers Phil and Louis

After being discharged in 1946, Phil returned to Wayne, PA, and entered the family business, Angelo D'Amicantonio & Son Shoes. In 1948, Phil married the former Theresa Luciani of Camden, New Jersey. They raised three children, Marie, Louis, and Robert. Phil worked in the business until his retirement in 1993. In 1996, Phil was honored as the Parade Marshal of the Radnor Township Memorial Day Parade. In the little spare time he had, he enjoyed going to his unit's annual reunions and watching sports on television. He also attendedmass every Sunday at Our Lady Of Assumption Church in Strafford, PA.
Phil passed away in March of 2003, at the age of eighty. At the time, he had six grandchildren. He was buried at Calvary Cemetery in Conshohocken, PA. I want to thank Phil's son, Louis, for the photos and information about his father.