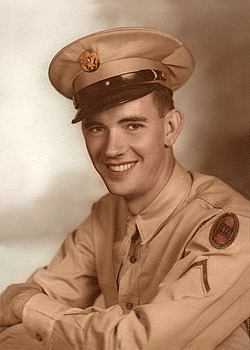 Justin D. Double
Biography: Justin Deryle Double was born on May 15, 1919. He was the son of James Double and Sara Nolan and attended local schools in Chicora, PA to the 9th grade. He left school to work at the National Fuel Gas Company in Erie, PA as a driver.

Service Time: Justin entered the service on October 28, 1941 at New Cumberland, PA. He was assigned to C Company of the 609th Tank Destroyer Battalion and received training at both Camp Hood, TX and later Camp Shelby, MS. On January 25, 1944, he married the former Verdie McMillen. She was the daughter of Thomas McMillen and Mary Thompson and had been born in Kittanning, PA. The 609th shipped to England in August of 1944 and would go on to receive credit for four campaigns, Northern France, Rhineland, Ardennes-Alsace and Central Europe.
It was during fighting in and around the small village of Noville, just miles from Bastogne, that 3rd Platoon of C Company, would make their mark. They arrived at Noville in support of Task Force Desobry (after Maj. William R Desobry). Platoon Commander Lt. David K. Hagens positioned the unit's four M18s in key firing positions, two in fixed positions and two roved through the town. At about 1:00 pm on Dec. 19, the fog lifted and the fighting erupted. One TD was able to knock out 7 enemy tanks while Justin, the gunner for another TD, commanded by Sgt. John Pilon, was able to knock out 5 more. Not only were the units able to hold Noville, but 3rd platoon accounted for 14 known destroyed tanks with the loss of only one TD. All units were able to pull out of Noville on the 20th. Other members of the crew in Justin's TD included T5 Robert Kurz, Pfc. Michael Hughes and Pvt. Calvert. Justin earning a Bronze Star for his actions. He left the service at the rank of Staff Sergeant.

When Justin returned from the war, he and Verdie made their residence in Wesleyville, PA, which is a suburb of Erie. The couple would have four children, Diane born in 1946, Dennis born in 1949, David born in 1951, and Darrell born in 1954. He returned to National Fuel, working his way up to foreman, and remained until he retired with a total of 42 years there. He also worked part-time at the local Genesee Beer plant. In his spare time, Justin enjoyed squirrel hunting and watching football and after he retired, travel became one of his favorite past-times. He was also a member of the St. James Catholic Church in Erie.

Justin passed away on April 8, 2002 at the age of 82. He was buried in the Wintergreen Gorge Cemetery in Erie, PA. I want to thank Justin's granddaughter Michelle for providing this information and photo of her grandfather. Michelle's son is named Judd Double after his great-grandfather whose nickname was "Judd".