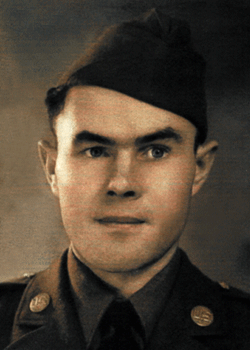 Manferd O. Driesel
Biography: Manferd Oscar Driesel, "Manny", was born on May 27, 1916, in Red Rock, Oklahoma. He was the son of William Charles Driesel and Myrtle Ethel Stanley and attended Red Rock Grade School. Manny's father died when he was only 12. His mother remarried in 1929, but it only lasted a year. She then moved to Idaho with her four sons, Earl, Manny, Earnest and Orval. Their first home there was a dug out with a canvas roof. The family later moved into a home in Jerome, Idaho. Manny worked as a farmer to help the family. When the war started, both Manny and his brother, Orval, enlisted in the Army.
Orval shipped to Europe, serving as a mechanic in the Headquarters Company of a medical unit.

Service Time: Manny entered the service on March 11, 1942, at Fort Douglas, Utah. He was assigned to HQ Company of the 701st Tank Destroyer Battalion, serving as a mechanic. He shipped out from the U.S., on May 31, 1942, landing in Ireland with the unit, on June 11.

Portions of the unit participated in the Operation Torch landings near Oran, Algeria. The rest of the battalion, including Manny, reached North Africa in November, taking part in the Tunisia campaign before shipping to Italy, in October. The unit's TDs operated mostly as artillery while in the Pagnataro area. They were shipped to the Anzio beachhead in February, 1944, and supported the 1st Armored Division during their breakout and entry into Rome in June.
The 701st moved north to the Arno River, crossing in September and later reaching Florence. Over the winter, they spent time training and providing artillery fire before supporting the 10th Mountain Division and their drive to the Po River. Manny received credit for 5 of the unit's campaigns and received the EAME Medal and Good Conduct Medal. He was honorably discharged on August 1, 1945, at Fort Douglas, UT, at the rank of Technical Sergeant.

The Times-News of Twin Falls, Idaho, did a story on Manny which described how he and a Lieutenant were ordered to go out and repair a broken down German Tiger Tank. As they approached the tank, they were driven back by enemy gunfire. The two came back later and were able to get it running and ultimately bring it back to their side. A photo of this same tank was on display at the Armor and Cavalry Museum, formerly at Fort Knox, Kentucky.
Manny was also in a movie called "The Tanks are Coming", portions of which were filmed at Fort Douglas. The story takes place during World War II, in 1944, at Saint-Lô, France. Five tanks of the 3rd Armored Division attempt to pierce the Siegfried Line just after the breakout from Normandy.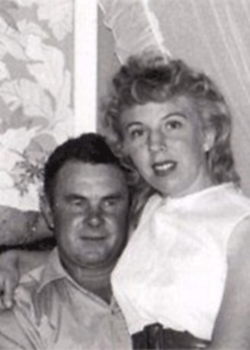 Manny returned home to Jerome and on June 1, 1949, he married the former Ruth Lillian Schiner. She was the daughter of James Schiner and Eva Schmidt and was born in Summit, Ohio. The new couple purchased a home just north of Sunnyside, Washington, where they grew grapes on their farm. He also worked for the California Packing Company with his brother Earl. In his spare time, Manny enjoyed making beer and wine.

Manny passed away on August 1, 1982, and was buried in the Lower Valley Memorial Gardens, Sunnyside, Washington.
I want to thank Manny's nephew, Danny, for providing the information and photos for this tribute.