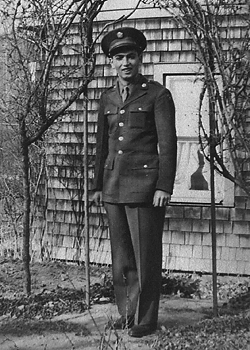 Gene V. De Rocchis
Biography:  Gene Vincenzo De Rocchis was born "Gino", on June 16, 1923, in the small town of Veroli, Italy, to Tesolina Scarsella and Vincent (Vincenzo) De Rocchis. He was the eldest son of three children, which included a sister, Santina, and brother, Roberto. His father traveled back and forth between Italy and the U.S., as was customary during that time. For four years, his family made a home together in Tuckahoe, NY.  When his mother decided to move back to Italy with his younger siblings, Gene, chose to remain in Tuckahoe, with his aunt and uncle.  He was only 12, at the time. His father moved to the Detroit, MI, area.

Gene attended local schools through the 9th grade and his enlistment record indicates that he worked in some type of foundry, prior to entering the service.
Service Time:  Gene enter the service on August 19, 1943, and was assigned to Company A, of the 823rd Tank Destroyer Battalion.  He sent a letter to his mother and siblings, mentioning that he was going to Europe to fight and that he would visit them while he was there.  They were overjoyed and could not wait to see him as it had been many years since they had been together.
Unfortunately, the next letter they received, informed them that Gene had been killed in action, while serving in Holland. The 823rd was stationed in Holland and A Company TDs were positioned to fire on pill-boxes, within the Siegfried Line.  On September 22, 1944, the company had destroyed a pill-box but one soldier was wounded and Pvt. De Rocchis was killed, by enemy shell fire. Gene was only 21 years old.

Gene was initially buried in a temporary military cemetery, at Fosse, Belgium.  After an extended search to find his next of kin, his mother was located in Veroli and she had him buried there, in a private cemetery. His family was devastated by their loss. After the war, both of Gene's siblings moved to the U.S., and joined her father in Michigan. Gene's mother remained in Italy, for several more years, before also moving to Michigan.

Santina kept a large picture of "Gino" in the house and always cherished her brother's memory.  She would speak of him often with her family and has his Purple Heart Award.
I want to thank Carla and Liana Rinaldi for providing the information and photo of their great-uncle, for this tribute.