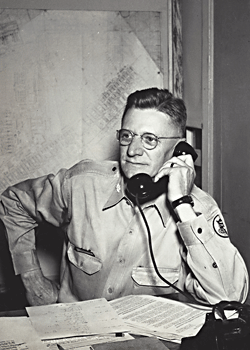 Emory A. Dunnam
Biography: Emory Alleyne Dunnam was born on December 3, 1892, in Westfield, Texas, which is in Harris County. He was the son of Eugene Harp Dunnam and Stella Ruth Harral. After graduating high school, he continued his education at Southwestern University in Georgetown, Texas.
Service Time: During his senior year in college, he joined the military for service in WWI. He was selected for Officer's Training, which he took at Camp Fenton in Leon Springs, Texas. After graduating from Officer's Training, he served in the 344th Field Artillery Regiment as the Personnel Adjutant. The unit was part of the 90th Infantry Division. He later served in Germany as part of the Army of Occupation.
On August 20, 1917, Emory married the former Mary Frances Clark, who was born in Washington D.C. She was the daughter of Charles Richard Clark and Elizabeth Wilson Jackson. After the war, Emory returned to the U.S. and worked in the insurance industry. The couple had two daughters, one born in 1921 and the other in 1929.
During WWII, Emory was called upon to serve again and was assigned to Camp Hood, Texas, and the newly formed Tank Destroyer Tactical Firing Center, which would be renamed as the TDRTC (Tank Destroyer Replacement Training Center). Lt. Col. Dunnam was placed in charge of land acquisition, billeting, vehicle maintenance and other things necessary for the new facilities. As those responsibilities diminished, Emory was placed in command of the 129th Tank Destroyer Training Battalion and was serving in that capacity in May of 1945. At the end of the war, as responsibilities at Camp Hood diminished, he was again sent to Germany to serve in the Army of Occupation. His experience from WWI would have certainly been an asset during the reorganization process.
At the war's end, Emory left the service and went back to his insurance career. In his spare time he enjoyed financial investing, specifically in oil and gas. Emory passed away on June 13, 1963, and was buried in the Mission Burial Park South, San Antonio, Texas.
I want to thank Emory's granddaughter, Sara, for providing the information and photo for this tribute.