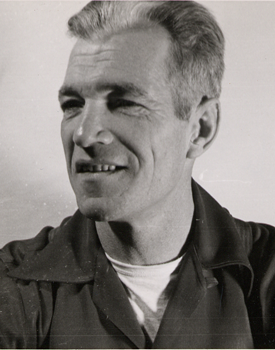 Clarence E. Dick
Biography: Clarence Edward Dick was born in Brackenridge, Pennsylvania, on Jan 8, 1909. He was the son of John A. Dick and Alice J. Jordan who had a total of eight children. Clarence had three brothers, Roy, Wilbur and John and four sisters, Hazel, Mildred, Nelly and Alice.
Service Time: Clarence enlisted at the New Cumberland induction center on Mar. 16, 1942. The only official record I have of his time with the 6th Tank Destroyer Group is the listing of his name on the payroll roster of Jul. 28th, 1943, while the unit was training at Camp Young, California – part of the Desert Training facility. This would have been prior to any time overseas. A pair of wooden shoes, sent to me by his nephew, identifies that Clarence was still with the unit in August of 1944. This would have been while they were heading west onto the Brittany Peninsula of France. He left the service at the rank of T/5 and was discharged on Oct 25, 1945, at Indiantown Gap, PA.

After the war, Clarence lived in Rochester Twp., PA, and worked at the Pittsburgh Bridge and Iron Works, also in Rochester. His obituary, published in the Beaver Valley Times – Dec. 26th, 1952, identifies that Clarence passed away on Dec. 24th, 1952, at the age of 43. His services were held at the Hartzel Funeral Home by the Rev. Milford W. Castrodale, Pastor of the First Presbyterian Church, Rochester. Interment was in Irvin's Cemetery, Rochester. His body was later moved and buried in the Mt. Airy Cemetery located in Natrona Heights, Harrison Twp., PA. The photo above shows Clarence in 1951.
A very special thanks to the Leonard N. Truver family for sending me the pair of wooden shoes and the photo of Clarence. "Len" is the son of Clarence's sister Alice. I have photos and an article about the shoes in the Unit Articles section of the website.