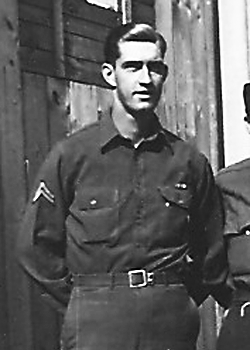 Robert L. Downs
Biography: Robert Lawrence Downs was born on December 27, 1917, in Haywood County, North Carolina. Lawrence, as he was known to his family, was the son of Loyd Alonzo Downs and Clearsia Jane Morrow and graduated from Clyde High School. Lawrence worked for the North Carolina state in road construction. Just prior to the war, he was working in the shipyard at Newport News, Virginia.
On April 26, 1941, Lawrence married the former Noda Price. She was born in Madison County, North Carolina and was the daughter of John Evan Price and Mary Emma Sawyer. Noda was employed in a shoe factory, sewing boots for the military.
Service Time: Lawrence entered the service on March 12, 1943, at Camp Croft, SC and received training at Fort Jackson, SC. While in the service, the men actually called him "Bob". He was assigned to Company A of the 605th Tank Destroyer Battalion, which shipped out from the New York port on December 10, 1944, and arrived at Clyde, Scotland, on December 16, 1944. After additional training in England, the unit landed at Le Havre, France, on January 26, 1945, equipped with towed 3″ guns. They entered battle on February 16, near Tevern, Germany, crossing the Roer River on February 24, and joining the drive to the Rhine. The unit was deployed to the Remagen bridgehead on March 12th.
The 605th withdrew from the bridgehead, on March 17, and was sent to Belgium to support the British armored forces but almost immediately was attached to the 17th Airborne Division. They crossed the Rhine beginning on March 25, at Xanten, Germany, and finally participated in the reduction of the Ruhr Pocket in April, crossing the Elbe River from April 30 to May 1, at Bleckede.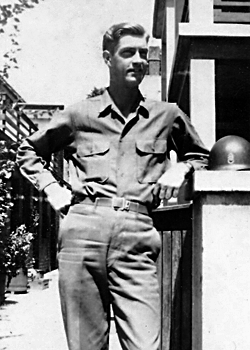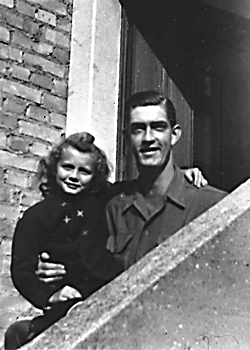 Lawrence received credit for both the unit's campaigns of the Rhineland and Central Europe. He was awarded the EAME Medal, the World War II Victory Medal and the Good Conduct Medal. He left the service at the rank of Corporal. The little girl shown in the photo above was named Hildegard. She was from Gross-Gerau, Germany, and hung around Lawrence for chocolate.
He returned home to Noda and they made their residence in Clyde, North Carolina. He worked for the Moody Rulane Gas Company and the couple had three children, Judith born in 1942, Janet in 1946 and Larry in 1950. In his spare time, Lawrence enjoyed fishing, camping and crafting musical instruments. He was also a charter member of the Haywood County Rescue Squad and a deacon in the Woodland Baptist Church.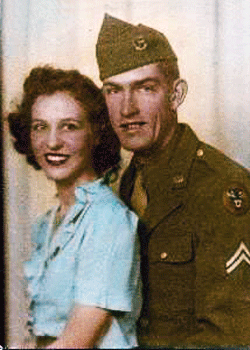 Lawrence passed away on October 5, 2003, and was buried in the Garrett-Hillcrest Memorial Park in Waynesville, North Carolina. I want to thank Lawrence's daughter, Judith, for providing the information and photos for this tribute.