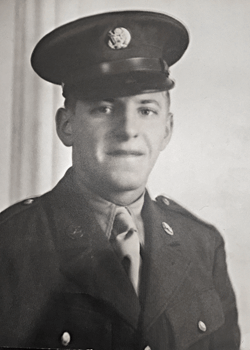 Edward A. Dabulas
Biography: Edward Andrew Dabulas was born on February 14, 1924, in Scranton, Pennsylvania. He was the son of Andrew Dabulas and Anna Kelly but while Edward was still a small child, Anna died and his father married Jennie Telesha. He attended North Scranton Junior High School through the 10th grade.
Edward found work with the CCC (Civilian Conservation Corps) to help his family. In his spare time, he played basketball with the Weston Field Team and was a member of the St. Joseph Church in Scranton.
Service Time: Edward entered the service at Wilkes Barre, PA, on September 2, 1942, and was ultimately assigned to Company C of the 601st Tank Destroyer Battalion. The unit initially saw action when their Reconnaissance Company landed at Oran, Algeria, Africa, on November 8th as part of Operation Torch. The rest of the battalion arrived there in December. They then fought in the Battle of the Kasserine Pass in February, 1943, and at El Guettar, in March.
Card from Bizerte, Tunisia – June 7, 1943

The unit converted to the M10 at the end of the North Africa campaign before participating in the invasion landings at Salerno, Italy, on September 9th. They made their assault at Anzio, on January 22, 1944, and entered Rome in June. It was while the unit was in Italy that Edward was injured and he received his first Purple Heart.
Edward recovered and was able to rejoin the unit when they landing in southern France on August 15. A few days later on August 19, 1944, Company C was involved in action in the vicinity of Brignoles, France. The Germans had a number of anti-tank guns set up in the town and casualties were heavy on both sides. Pfc. Edward A. Dabulas received shell fragment wounds and was evacuated to a field hospital for treatment. Sadly, four days later, on August 22, Edward died of his wounds. He was posthumously awarded the Oak Leaf Cluster, denoting his second Purple Heart.
Response to Inquiry Regarding Death
Letter from Lt. Col. William E. Tardy
He was initially buried in the American Military Cemetery in Luynes, France, but at the request of his sister, Lilian, he was re-interned in the Long Island National Cemetery, Farmingdale, New York, Section J, Site 16444.
I want to thank Edward's great-niece, Kristen Dempsey and his great nephew, MJ Ryan for providing the information and materials for this tribute.