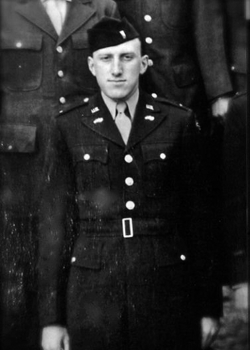 Gregory F. Daalmann
Biography: Gregory F. Daalmann, "Greg", was born on February 8, 1921, in Milwaukee, Wisconsin, and was the son of Frederick C. Daalmann and Anna M. Bauer. He attended Sacred Heart Grade School in St. Francis, and Messmer High School in Milwaukee. Following high school, Greg attended Marquette University School of Journalism where he was president of the Chi Alpha Psi Fraternity. He left college to enlist in the Army on August 8, 1942, one semester before he would have graduated.
Service Time: Greg entered the Army and was eventually assigned to Company A of the 692nd Tank Destroyer Battalion. He attended Officer Candidate School and was commissioned as a 2nd Lieutenant, serving as Company A's Executive Officer. Based on his enlistment date, it is likely that Greg received additional training at Camp Hood, Texas, Camp Phillips, Kansas, Carthage Junction for the Tennessee Maneuvers during November, 1943, through mid-January, 1944 and Camp Campbell, Kentucky, prior to shipping overseas.
The 692nd left the U.S. on September 12, 1944, and arrived at Cherbourg, France, on the 23rd. The battalion was attached to the 104th Infantry Division in late October and was in the Aachen, Germany, area in November. On November 11th, 1944, while engaged in combat to take Eschweiler, Germany, Greg was working to get Company A's 3-inch anti-tank guns placed when they were hit with an enemy artillery barrage. While leaning over a gun sight, he was struck in the back with shrapnel and killed instantly.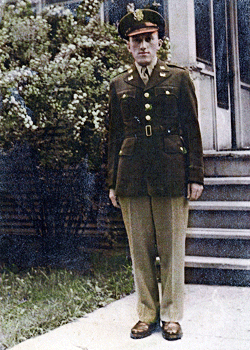 Lt. Gregory F. Daalmann was due to be promoted to 1st Lieutenant in mid-November and he was awarded both a Bronze Star and Purple Heart medal. He is buried in the Holy Trinity Cemetery, Block E, Lot 10-N, Grave 6, Milwaukee, Wisconsin.
We would like to thank Lt. Daalmann for making the ultimate sacrifice for his country. Thank you also to Greg's nephew, Jim Kern, and his sister Mary Anne, for providing the information and photos used in this tribute. Thanks also to Greg McQuade for providing the b&w photo.