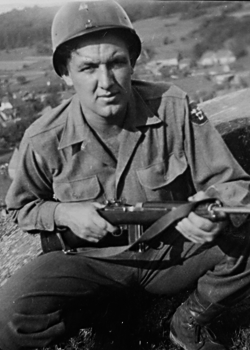 Lloyd K. Danley
Biography: Lloyd Kenneth Danley was born on February 17, 1922, in Lincoln, Nebraska. He was the son of Harry Danley and Ella Baldner and attended University High School in Lincoln, where he was a star athlete in basketball and track.
Prior to the war, he worked as a truck driver. Lloyd married the former Ellen Elise Pralle on February 8, 1940, at the First Plymouth Church in Lincoln. Ellen was born in St. Louis, Missouri, and was the daughter of Robert Pralle and Laura Lamb. The new couple made their home in Lincoln and had two children, Phillip, born in 1940, Diane in 1941.
Service Time: Lloyd entered the service and was assigned to 2nd Platoon, A Company, of the 814th Tank Destroyer Battalion. The unit trained at a number of camps, including Camp Polk, Louisiana, Camp Bowie, and Camp Hood, Texas. While stationed at Camp Hood, Lloyd's wife Ellen visited him in June of 1943. She became sick from the heat and stress of the train ride from Nebraska, since she was pregnant with their third child Linda. The unit shipped out from the Boston port on February 15, 1944, landing in England on February 22nd.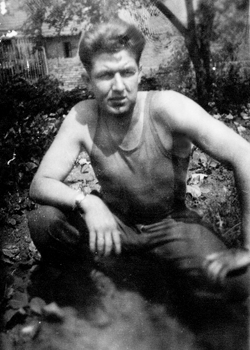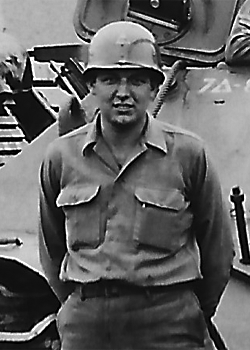 They boarded transports and landed at Utah Beach, beginning on August 8th, equipped with M10s. They raced across France that same month and participated in the fighting around Metz in September. They then moved to the Peel Marshes in Holland at the end of the month. In October, the unit began re-equipping with M36s and then supported the Ninth Army's drive toward the Roer River in November. They next moved with the 7th Armored Division to the Ardennes on December 17th and participated in the defense of St. Vith. They supported operations against the West Wall in February, 1945, and crossed the Rhine River at Remagen on March 23rd. In April, they helped reduce the Ruhr Pocket and drove east to the Elbe River, crossing and reaching the Baltic coast on May 3rd.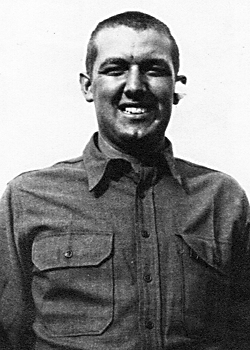 Lloyd was awarded the Purple Heart for a shrapnel wound to his ear. You can see his bandaged ear in the photo on left. He also received a Bronze Star, for Meritorious Service in connection with military operations against the enemy in Belgium, Holland and Germany during the period, October 8, 1944, to May 8, 1945. He left the service on October 25, 1945, at Fort Leavenworth, Kansas. He had reached the rank of Sergeant.
Lloyd returned home to Lincoln and initially worked as a truck driver. He later managed and owned his own business. He and Ellen had two more sons, Michael, born in 1946, and Richard in 1951. In his spare time, Lloyd coached an American Legion Baseball team in Longmont, Colorado. As he got older, he enjoyed watching Major League baseball and he was also a member of the American Legion. The family later traveled extensively around the U.S., finally settling in Yucaipa, California.
Lloyd passed away on January 4, 2003, and was buried in the Desert Lawn Memorial Park in Calimesa, California. I want to thank Lloyd's son, Michael, for provided the photos and information for this tribute as well as a number of photos of other members of the 814th.
In addition to Lloyd's military service, his brothers Robert, Earl and Harold also served during WWII. Robert and Earl returned home but Harold was killed during training with the Army Air Corps. We thank each of them for their service to this country.