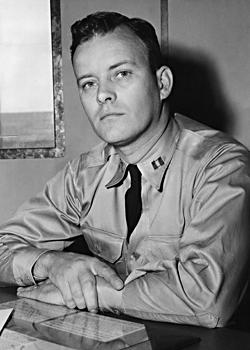 John E. Dooley
Biography: John Edward Dooley was born on July 1, 1917, in Avon New York. He was the son of Edward Dooley and Mae Curry and graduated from Avon High School in 1938. John's great-grandparents had emigrated from Ireland in the 1850s and 1860s.
After graduation, John worked for the Porcelain Insulator Corp. Lima, NY. He assembled porcelain insulators, which were used in electric lines in outside locations. He also spent some time working as a shipping clerk.
Service Time: John joined the National Guard at Geneseo, New York, on January 27, 1941. He was assigned to the Troop B of the 101st Cavalry Regiment. The unit was federalized in January of 1941. In February of 1941, John was deployed to Fort Devens, Massachusetts, for training and it was there that he met his future wife, Lucille.
John continued to train with the 101st until August, 1942, when he was selected to attend OCS (Officer's Training School) at Camp Hood, Texas. He graduated and was commissioned as a 2nd Lieutenant on Nov 24, 1942, and returned home on leave to visit family.
He returned to Camp Hood to train with Tank Destroyers and shipped overseas as a replacement, eventually being assigned to the 701st Tank Destroyer Battalion in the fall of 1943. At the time, the unit was wrapping up operations in North Africa in preparation for the campaigns in Italy. He initially served as 3rd Platoon Commander for the Reconnaissance Company and he and his platoon were singled-out for their fine job while part of Task Force Howse in the drive north from Rome. John later served as Battalion Adjutant and his discharge mentions his participation on a Courts-Martial Board.
John received credit for the campaigns of Naples-Foggia, Rome-Arno, North Appenines and Po Valley. John shipped home in the late summer of 1945 and on October 29, he married the former Lucille Marie McGarry in Lowell, Massachusetts. She was the daughter of Joseph M. and Mary E. (Mae) McGarry and was born in Lowell. The new couple made their home in Avon, New York. Later that year, on December 17th, John left the service at the rank of 1st Lieutenant at the Fort Dix, New Jersey, separation center.
Wedding Article – The Lowell Sun Oct 29, 1945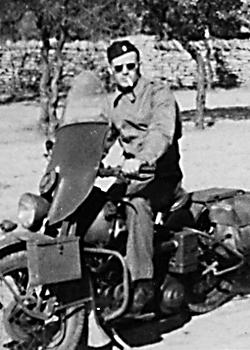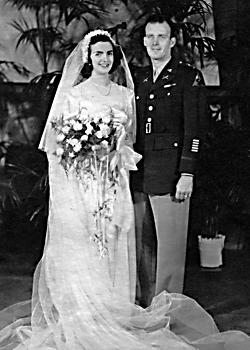 In the fall of 1947, John joined the National Guard and served in the 27th Mechanized Cavalry Reconnaissance Troop. He was recruited with 43 other men from the area to be part of the Genesco based unit. At some point, he and Lucille moved to West Palm Beach, Florida, where he was employed as a salesman for an oil company. He then transferred to the Air National Guard.
On November 1, 1951, John was promoted to Captain and from January through March, 1952, he attended Air Weapons Controller School at Tyndall AFB (Air Force Base), in Florida. See Link for info on this Weapons Controller School. The 3625th Technical Training Squadron was designed to teach personnel to become air weapons controllers. Interestingly, John's son later served in this same unit during the early 1980s without knowing his father previously went to school there.
Per orders dated Aug 16, 1952, John was assigned to the 114th AC&W Squadron, which was based in both South Carolina and Miami, with associated activities in Germany. The orders assigned John to Hahn Airbase in Germany, and unfortunately, on this particular assignment his family was not allowed to accompany him. It was through a resourceful HAM radio operator in Pennsylvania that John and Lucille were able to speak to each other. John was overseas for 10 months and 26 days, probably returning sometime in July of 1953. He left the service for the last time on Nov 1st., at the rank of Captain. His mother was terminally ill which may have been at least part of the reason for him leaving.
The family settled in Cranston, Rhode Island, where he worked as a salesman for AC Spark Plugs. Over the years, the couple had four children, Kathleen, born in 1946, John in 1950, Gregory in 1953 and Wendy in 1958. In his spare time, he enjoyed fishing and coaching little league. In 1960, the family moved to Dracut, Massachusetts, and John worked for Boston Auto Supply in Lowell. The business was started by his wife's grandfather around 1912. He remained there until his death on September 27, 1970.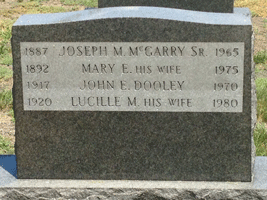 John was buried in the St. Patrick's Cemetery in Lowell. I want to thank John's son, John (Garry), for providing the information and photos for this tribute. I also was to thank his son for his service in the Air Force. He retired at the rank of Senior Master Sergeant.