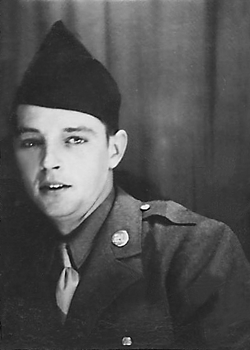 James P. Duffy
Biography: James Patrick Duffy was born in April of 1922, in New York City, New York. He attended Saint Sylvester Catholic School in Queens, NY, graduating in 1939. He then went to work for the Timothy Duffy Company, the family's carting (waste removal) business, which had been founded in 1885.
Service Time: James and his brother Bob went to the induction center at the same time but they were not kept together as they requested. James entered the Army on August 27, 1942, and was eventually assigned to the 1st Tank Destroyer Brigade where he functioned as the unit's clerk. The 1st was under the command of Brigadier General Herbert L. Earnest and had been activated at Camp Hood, Texas, on Nov. 18, 1942. They moved to Camp Claiborne, Louisiana, on February 26, 1943, where they took part in the maneuvers from September 15th to November 15, 1943.
The unit then traveled to Camp Shanks, NY, arriving on Dec. 28, 1943, where they prepared for overseas shipment. They shipped out from the New York Port of Embarkation on Jan. 2, 1944, arriving in England on January 10th. After a few months of additional training and preparations, they shipped to France, arriving on July 11, 1944.
The 1st Brigade was utilized to create "Task Force A" and given command of armored forces on the Brittany Peninsula after the breakout at Avranches. They acted as a separate combat command unit under VIII Corps, which was commanded by Major General Troy Middleton. At the end of the mission, the task force was broken up on Sep. 22, 1944, and joined with Third Army as their tank destroyer command unit on Sep. 30, 1944. They continued in that role until the end of the war. The unit finally took on occupational duties in Germany until October 31, 1945. James left the service at the rank of Corporal.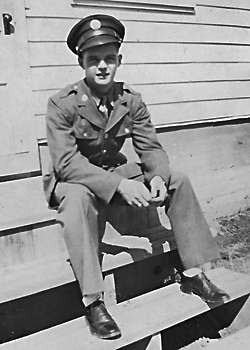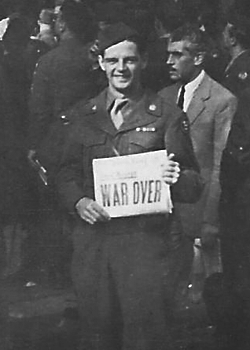 Once back in the U.S., he returned to the family business. His father yielded the day to day operational control to James, his brother Bob and their sister Grace. James would later expand their business to include real estate and insurance. The business closed operations in 2002, after 127 years, when each of the children had passed and only the grandchildren were still involved.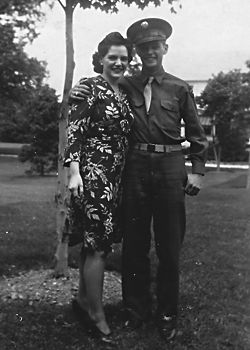 The photo at left is James posing with his sister Grace while on leave from the unit.
Within a few months after leaving the service, he married Mary and the couple had three sons, James Jr., Gerard and Sean. Sean describes his father as a minimalist with very few possessions; a car, golf clubs, some dress clothes and a shoe box from the war. He did the New York Times crossword puzzle with his sister in the office every work day and loved the NY Giants. He had two box seat season tickets and considering the waiting list for box seats is almost a lifetime, it shows how devoted a fan he was.
James knew many notable people. His son remembers going to lunch with his father and Sam Snead, the famous golfer, at Lyles in New Jersey. He also remembers his dad having a drink with Mickey Mantle. In the 1970's, James sponsored six children so they could leave Ireland and escape the bombings there. The program was called Project Children, and it brought kids into the Duffy home for at least four summers. Sean remembers his father saying how much he enjoyed being involved in the program because he hated seeing the children displaced by war. In 1972, James and Sean visited Ireland but he couldn't be persuaded to visit mainland Europe. He wouldn't even go to England. The memories of his WWII experiences were still too difficult for him.
James passed away in 1983, and was buried in the St. Johns Catholic Cemetery in Queens, NY. I want to thank James' son, Sean, for providing the information and photos for this tribute. I also want to thank him for sharing a number of his father's photos and documents from the 1st TD Brigade. James had brought back a Nazi flag signed by everyone in the unit. Sean contacted everyone on the flag that he could find. Many had already passed away and 10 others refused to help. It was obvious to Sean that they didn't want to revisit the painful memories of the past. Only T/5 Edward R. Schmuff was willing to help him identify many of the photos from his father's collection. Mr. Schmuff sent Sean the following letter in 1991.
The flag shown below was brought home by James and was one of his most treasured possessions. It was taken from Berchtesgaden and signed by most of the men of the unit. They had a flag signing party and many flags were signed that day. His son had the flag framed after his passing and contacted every name on the flag. Ed Schmuff confirmed his signing of the flag at the Berchtesgaden location.