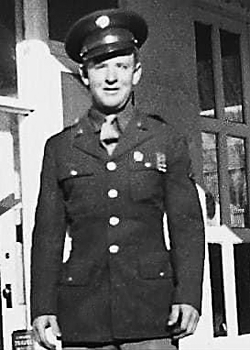 Wilford Davies
Biography: Wilford Davies was born on January 19, 1923, in Junction, Utah. He was the son of George Elisha Davies and Rachel Emma Carson who had both been married before so Wilford had many half-brothers and sisters. He attended Junction Elementary School and then Circleville High School through the 11th grade.
He worked the family farm, which included milking cows, raising pigs, rabbits and chickens and well as helping to harvest the hay and store it in their large barn. Wilford recalled how he and many of his friends enjoyed swinging from one end of the barn to the other on the rope they had tied in the center. He spent his spare time on his bicycle, riding horses, swimming in the town's canal and local river and going skating when ice covered the canal. He was involved in 4-H and raised pheasants as a project.
He had his first truck, a 1936, Ford V8, when he was only 17. He purchased his second truck at age 19 and worked at a variety of jobs including spearing carp, which he then hauled to California to sell them. He worked as a logger, hauled coal, thinned beets, topped beets, hauled hay, and at an adobe brick factory in Glenwood, UT. He also robbed the U.S. Mail by digging peanuts out of holes in the large sacks and ate them when his father hauled them from Marysvale to Escalante and other places in the area.
On one occasion, he was going through Koosharem, UT, and stopped at the home of Arnol Richard Brown and Myrtle Loretta Camp. Wilford was there to purchase a calf, which he did but he also got a glimpse of the couple's daughter, Nan, who was out milking a cow. Nan immediately stopped what she was doing to see what was happening. Wilford thought she was beautiful but at the time, she was only 15 or 16.
Service Time: Wilford entered the service on January 9, 1943, at Fort Douglas in Salt Lake City, UT. He was then sent to Camp Bowie, Texas for basic training and then to Camp Hood, TX for advanced training and was assigned to Company A of the 823rd Tank Destroyer Battalion. He received additional training with the unit at Camp Claiborne, Louisiana, where they were located prior to participating in the Louisiana maneuvers.
Wilford received his first furlough in November 1943, and while home for ten days, he was able to see Nan again. After returning to the unit, he wrote Nan and asked if she would come down to Louisiana and marry him. She and close friend Connie Jensen went by bus to Phoenix, Arizona and then to Louisiana by train. The couple was married on January 14, 1944, and the girls returned home by train to Salt Lake City and then bus to Richfield, UT.
At some point during his training, he qualified as an Expert with the machine gun. He initially served as a half-track driver but transitioned to driving the unit's self-propelled M10 tank destroyers when they were converted.
The unit boarded trains on March 9, 1944, enroute to Camp Myles Standish, and the Boston port, where they arrived on the 12th to begin their final preparations for the trip overseas. On April 6th, they loaded the U.S.S. Sea Porpoise and sailed for England, arriving in Newport, Wales, on the 17th after an uneventful trip.
After some additional training and a delay, they boarded three LSTs and landed on Omaha Beach, Normandy, France, on June 24, 1944. They were equipped with 3″ towed anti-tank guns and went into action within 24 hours of their arrival. The 823rd supporting the drive on St. Lô and fought at Mortain in August.  During an interview in 1994, Wilford recalled:
"I was the driver for the halftrack that pulled No .1 gun of No. 1 section of 1st platoon (of A Company). My gun commander was Sergeant Travis D. Brewer from Texas. Normally, we did not have a lot of time to set up our positions, but at Mortain we had a whole day to get ready. As a result, the guns were dug in so that their muzzle just barely cleared a small bank in front of them. We also camouflaged them fairly well. Both guns in our section were set up looking right down a road to our direct front. There was a ridge in front of us, then the road dipped down a bit and led past our position over the railroad tracks into Mortain. One gun was on each side of the road, which was bounded to our left by an orchard. I pulled rear security, manning a foxhole with a .50 caliber MG (machine gun), (dismounted) from my halftrack. My vehicle itself was pulled in behind a shed or stable next to a large country house to our rear. When I wasn't manning the MG position, I stayed near my halftrack. I spent a lot of time under the halftrack because we were shelled pretty regularly by German artillery and mortars. Our Lt. (Thomas) Springfield was a really good platoon leader. He stayed calm all of the time and directed us well."
"Most of the engagements were at fairly close range. The German vehicles came over a little ridge about 2-300 yards to our front and then drove down towards us . It seemed as if the guns usually opened fire at rages of 20-100 yards. Most of the vehicles we knocked out were halftracks , trucks with troops onboard or motorcycles. There weren't a lot of tanks in the area, though we did knock out two or three. Whenever we hit an enemy vehicle, I would take my halftrack or the No. 2 gun's half track would go forward and pull the German vehicles into a small field off to the side. The German casualties, most of whom were killed, were dragged off into the ditches where they would not be visible to anyone else coming down the road. After a couple of days, the Germans asked for a truce and we let them come and take away all of the wounded they could find. I remember looking out and seeing the German medics with white flags evacuating the injured enemy soldiers on trucks."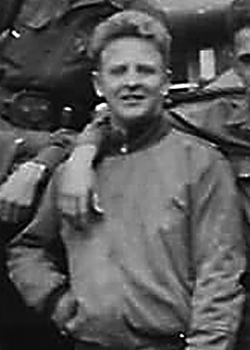 The unit then passed through Belgium and Holland, entering Germany on September 17th. Fighting along the Siegfried Line in October, which included the encirclement of Aachen, Germany, the 823rd converted to M10 tank destroyers beginning in November, and shifted to the Ardennes in late December, fighting to eliminate the Bulge in January, 1945.
Wilford also recalled: "It seems as if everyone in the section got through, although a couple of people were wounded. I got hit in the shoulder by a small piece of mortar shrapnel, which barely stuck in my skin. I just pulled it out and did not report it to the medics. Most of the time the enemy limited himself to firing artillery and mortars at us. They did not probe with patrols very often and if they did, the patrols would normally disperse as soon as they were fired upon by us. They fired MG's in our area once in a while, but not often. We did have quite a bit of firepower. As I said before, they had dismounted the .50 caliber MG from the halftrack and dug it in as well as a .30 caliber (MG) too." Wilford identified one other gun commander in the platoon, Sergeant Austin L. Mecham from Utah.
The unit crossed the Roer River on February 24th and the Rhine River on March 24th. They raced eastward to the Elbe River, at Magdeburg, in April and finally began military occupation duties on April 21st. Wilford received credit for each of the unit's campaigns, including Normandy, Northern France, Rhineland, Ardennes-Alsace and Central Europe. He was awarded the WWII Victory, EAME, American Campaign and Good Conduct medals. He also shared in A Company's award of the Distinguished Unit Citation.
The 823rd arrived back in New York City on October 23, 1945. Wilford left the service at the rank of Technician 4th Grade on October 31st.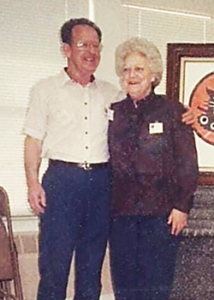 Wilford returned to Utah he and Nan made their home in Richfield. They initially rented a home but eventually were able to purchase it. Wilford worked for himself in a variety of jobs including hauling with his truck and driving school bus for his half-brother Ben. He eventually went to work for Steiner Johnson as a mechanic and later for Lynn Fowler as a mechanic and also painting cars. He continued to work in the automotive repair and gas station business owning and partnering in a number of stations, including Phillips 66, Shell and Chevron in the Richfield and Salina, UT, areas. He and Nan would had five children, Janet and Marie, two other daughters and a son, Wilford Jr, who all died as infants.
Wilford passed away on March 30, 2000, and was buried in the Richfield City Cemetery in Richfield, UT. I want to thank Wilford's grandson Shaun for providing the information and photos used in this tribute. Thank you also to Find A Grave contributor, Enid Jamison, for the use of grave marker photo.