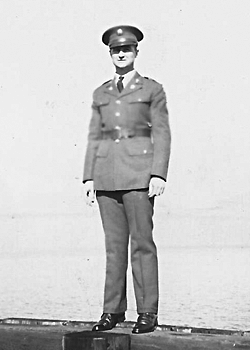 William H. Ethridge
Biography: William Herbert Ethridge, "Willie", was born on November 7, 1915, in Cumby, Texas. He was the son of Franklin Sherman Ethridge and Dona Clem and attended local schools through the grammar level. After leaving school, he worked as a farmer prior to the war.
Service Time: Willie entered the service on October 18, 1939, at Dallas, Texas, and after his basic training, would have been assigned to a unit for additional training as an anti-tank gun crewman.
On December 12, 1942, while on leave from the military, he married the former Shirley Elizabeth Books who was born in Colfax, Wisconsin, and was the daughter of Ervin Charles Books and Marion Zale Edwards.
Willie shipped out from the U.S. on June 24, 1943, arriving in England on the 29th. His original unit is unknown, and it is unclear when or why he was reassigned, but he was assigned to Company C of the 635th Tank Destroyer Battalion. While in England, on February 25, 1944, he qualified as a Sharpshooter with the rifle.
The 635th boarded transports and landed on Omaha Beach on June 8th. They advanced through northern France and Belgium, operating in the Roetgen-Aachen sector and the Hürtgen Forest during autumn. They were transferred to Belgium, on December 22nd, during the Battle of the Bulge.
They returned to the Aachen area in January, 1945, and supported the drive toward the Rhine River near Cologne, Germany. The unit was transferred to the Seventh Army and almost immediately to Third Army on April, 1st. They then crossed the Rhine at Mannheim and advanced through central Germany to Austria.
Willie received credit for each of the unit's campaigns, including Normandy, Northern France, Rhineland, Ardennes-Alsace and Central Europe. He also received the EAME, American Defense, WWII Victory and Good Conduct Medals. He left the service on July 26, 1945, at Fort Sam Houston, Texas, at the rank of Private First Class.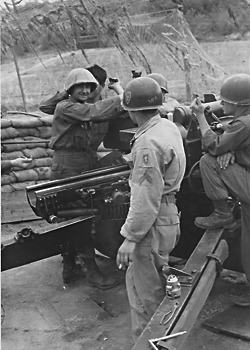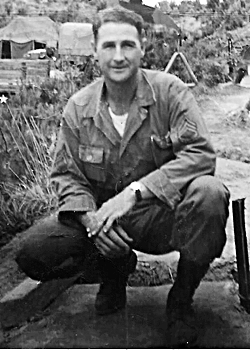 The photo above left, taken in Germany, is Willie with a 105mm Howitzer.

Willie re-enlisted but his assignments during the late 40's are not known. In July, 1951, he served with the 1st GM (Guided Missile Group), at Las Cruces, New Mexico, and later with the 3rd GM Bn., at Fort Bliss, TX. While stationed at the White Sands Missile Range in NM, he worked as a machinist. He related to his family that one of the missiles hit the side of a hill, causing damage to windows in the City of Las Cruces, which was over 20 miles away.
In February of 1953, he shipped to the AFFE (Armed Forces Far East) and was assigned to Co. A of the 725th Ord. (Ordinance) Battalion as part of the Korean conflict. He remained with the unit throughout his time overseas and shipped back to the U.S. in May 1954, arriving at Fort Hood, TX, in August.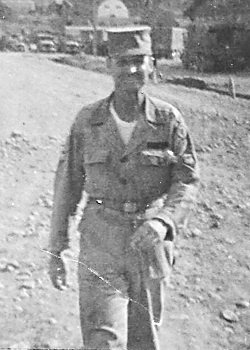 He was then assigned to Co. B, 126th Armd Ord Bn. (Armored Ordinance Bn.) and later was with Co. A of the 512th AIB (Armored Infantry Bn.) in November 1955. He was sent back to AFFE on January 4, 1956, serving with Co. B, 724th Ord. Bn., and again re-enlisted, staying with the 724th. He shipped back to the U.S. in April, 1957, to be assigned to the 129th Ord. Co., stationed at Fort Hood, TX.

Willie's military service continued with him serving in Turkey and later in the the 410th and 13th Ord. Co's., at Fort Bliss, TX, as well as the the 556th Ord. Co. in Europe. He finally retired from active service on August 31, 1964, and transferred into the Army Reserves, at the rank of Sergeant First Class.
In addition to his decorations for WWII, Willie received the Korean Service Medal with 2 campaign stars, the United Nations Service Medal, the Good Conduct Medal with 2 loops signifying his subsequent service enlistments and 2 overseas service bars.
As a civilian, Willie made his home in Bremond, TX, and worked as a machinist for the Albritton Company which manufactured truck mounted cranes. He then worked for the City of Bryan in their water production division. In his spare time, Willie enjoyed some fishing and traveling which were two of his favorite hobbies. He and Shirley had two sons, William born in 1947, and Dennis in 1955. Willie passed away on February 5, 1989, and was buried in the College Station Cemetery in College Station, Texas. I want to thank Willie's son, Dennis, for providing the photos and information for this tribute.