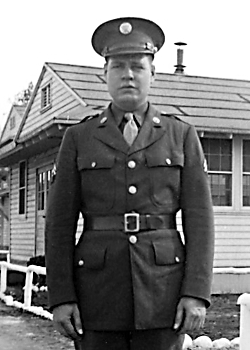 George F. Ernewein
Biography: George Frederick Ernewein was born on February 17, 1914, in Detroit, Michigan. He was the son of Edward C. Ernewein and Louise "Lizzie" Arbonowsky and attended Detroit Southwestern High School, graduating in 1934. Prior to the war, he is listed as working in a semi-skilled machine shop occupation.
Service Time: George entered the service on October 18, 1941, and did his initial service with a field artillery battalion. He was assigned to Company A of the 645th Tank Destroyer Battalion and trained with them at a number of facilities throughout the U.S.
Letter to Lillian – February 5, 1942
The above letter was accompanied by a few photos which can be seen in the Photo Gallery of the 645th.
On September 5, 1942, while on leave, George married the former Lillian Grace Haskel who was born in Detroit and was the daughter of Fred Haskel and Rose Peschke.
The 645th shipped out from the New York port on April 28, 1943, arriving in Algeria on May 27th. They then boarded transports and landed at Paestum, Italy, on September 9th, and participated in the drive up the Italian peninsula. They then shifted to the Anzio beachhead in February, 1944.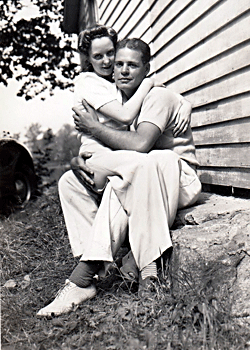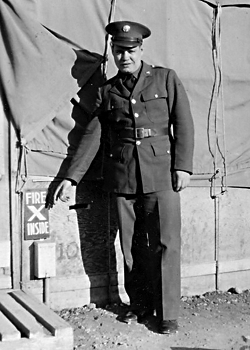 The unit was withdrawn for training in June, 1944, to participate in Operation Dragoon. They landed on August 15th in Southern France and on the night of the 30th, Co. A moved into position at Valbonne, with four M10 tank destroyers and one M3. German Infantry was preparing to enter the town along with five tanks. Sgt. Ernewein opened fire and knocked out one of the tanks. Ernewein's TD was then knocked out by what was thought to be an anti-tank gun. Ernewein was seriously wounded and Cpl. Gould was killed. Cpl. Delaney was later captured and both Pfc Bell and Pvt Hoover were sent to the hospital.
Award of the Purple Heart – Certificate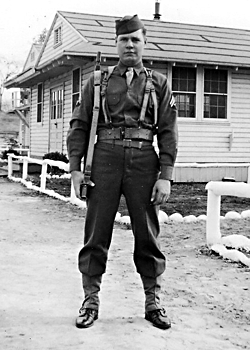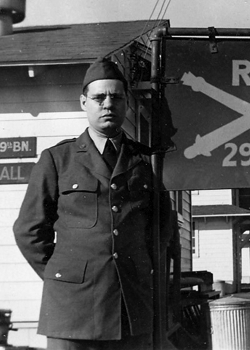 The unit advanced to the Vosges Mountains near Grandvillers by October and joined the assault on the Siegfried Line in December near Bobenthal, Germany. They fought the German Nordwind offensive in January 1945, and then converted to M36 tank destroyers, beginning in late January. They attacked the Siegfried Line again, south of Sarreguemines in March, and crossed the Rhine at Worms on 25 March. The unit helped reduce the Nazi stand at Aschaffenburg at month's end and participated in the capture of Nürnberg in mid-April. They reached Munich on 29 April.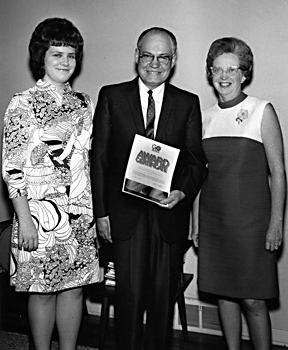 George spent time in the 23rd General Hospital, which was located in Italy at the time. He was eventually shipped home for an extended stay in the Crile General Hospital, in Cleveland, Ohio, to recover from his wounds. He was discharged on April 29, 1946 at the rank of Sergeant. In addition to the Purple Heart, he received the EAME Medal, WWII Victory Medal, American Campaign Medal and Good Conduct Medal.
George returned to Detroit and to his wife, Lillian. The couple had a daughter, Elaine, born in 1946, and George found work with the U.S. Postal Service, working in their Claims and Inquiries department. In his spare time, George enjoyed traveling and sightseeing, reading and rock-hounding in Michigan's Upper Peninsula. He was also a member of the VFW.
The photo on left shows George with his daughter Elaine on left and wife Lillian on right.
George passed away on March 20, 1987, and was buried in the Woodmere Cemetery in Detroit, MI. I want to thank George's nephew, Tom, for providing the information and photos for this tribute.