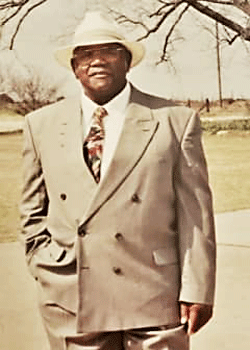 Charlie J. Edge
Biography: Charlie James Edge was born on January 13, 1927 in Rebecca, Georgia. He was one of 11 children born to John W. Edge Sr. and Lillie Bell Willis. His enlistment record indicates he had completed grammar school and was working as a general farmer when he entered the military. He was living in Turner, GA, just prior to the war.
Service Time: Charlie entered the Army on August 1, 1945, at Fort Benning, GA. He served as a longshoreman, stationed at one of the sea ports, and was involved in the loading and unloading of ships. During the war, this was a critical task needed to keep the flow of supplies and equipment available for our troops overseas.
At some point, he was assigned to the 614th Tank Destroyer Battalion but it is unknown whether Charlie served with them overseas or if he may have been assigned to the unit upon their return to the U.S. He left the military on October 26, 1946 and returned to his hometown of Rebecca.
On January 25, 1948, Charlie married Lillie Mae and together they had six children, Charlie M., Senesta, Betty, Elizabeth, Gray and Lenora. After years of working various jobs, he became a licensed and certified Master Plumber, serving Albany State University as well as his community until retiring from this position.
In his early life, Charlie was a member of the St. Luke Baptist Church in Rebecca. While there, he was a member of the Deacon Board. Later, he moved to the New Mt. Pleasant Baptist Church in Coverdale, GA. He served there as a Deacon until his health began to fail. He was also a Life Member of the Englewood Lodge #399 in Fitzgerald, GA.
Charlie passed away on April 25, 2020, and was buried in the Westview Memorial Cemetery in Ashburn, Georgia. We would like to thank the Edge family for the photo of Charlie and information used in this tribute. Thank you also to Find A Grave contributor, Clent, for the use of the grave marker photo.