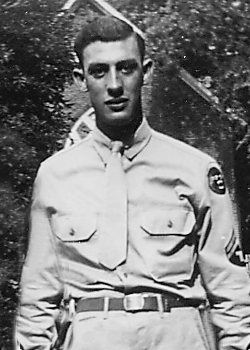 John H. Edmiston
Biography: John Harold Edmiston was born on December 17, 1919, in Petersburg Borough, Huntingdon County, Pennsylvania. He was one of two sons and four daughters born to Charles Alfred Edmiston and Edith Elizabeth Anderson. John's enlistment record shows he completed four years of high school. He was later working driving a team of horses for logging. His draft card indicates he was working as a laborer in Logan Township, Huntingdon County in July of 1941.
Service Time: John entered the Army on March 17, 1942 at New Cumberland, PA. At some point, he was assigned to the 608th Tank Destroyer Battalion. The unit was formed at Fort Jackson, South Carolina in December 1941, and trained there until moving to Camp Atterbury, Indiana, on June 9, 1943. Training continued but on December 20, 1943, the 608th was deactivated and the personnel transferred to other tank destroyer units. John was transferred to the 607th Tank Destroyer Battalion and assigned to Company B on December 27th.
He trained with the unit at a number of locations including: Fort Ord, Camp San Luis Obispo, Hunter Liggett Military Reservation and the Desert Training Center, all in California, along with Camp Hood, Texas and Camp Cooke, CA. While they originally trained with M10 tank destroyers, the unit was converted to a towed battalion, utilizing the M5 3" gun, on December 15, 1943.
Arriving at Liverpool, England, on April 21, 1944, they continued training. Company A landed at Utah Beach, Normandy, France on June 17th and supported the advance on Cherbourg, fighting along the Seves River in July. They joined the drive to Le Mans and envelopment of the Falaise Pocket in August, advancing to the Moselle River in September and supporting operations against Metz through November. The unit converted to a self-propelled battalion equipped with M36 tank destroyers in time for the final assault on Metz.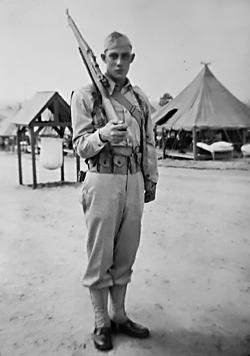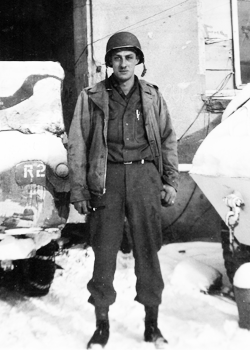 The photo above left shows John when he was a member of the 608th TD Bn. Photo at right was likely taken in early 1945 in Belgium.
Continuing the drive toward the Saar River, they participated in the attack on Saarlautern, Germany, followed by the subsequent fight against the Siegfried Line in December. On December 18th, Technician 5th Grade Edmiston was transferred to Reconnaissance Company and became part of the company mechanic crew. The unit was deployed to the Ardennes sector in January 1945 and again committed against the Siegfried Line in February in the Schnee Eifel. John was promoted to Technician 4th Grade (T/4) on February 11th. Supporting the capture of Koblenz, Germany in mid-March, they crossed the Rhine River at Boppard on March 25.
The unit continued to drive east through Hessen and Thüringen during April and reached the Czechoslovak border near Plauen by mid-April. Thereafter, they remained in defensive positions until VE Day. On July 24th, John was sent to Mannheim, Germany on temporary duty, returning to the unit on August 3rd. On the 4th, John, along with a number of other 607th men, was transferred to the 500th Armored Field Artillery Battalion. He earned the Good Conduct, WWII Victory, Occupation of Germany and the EAME medals with credit for the campaigns of Normandy, Northern France, Rhineland, Ardennes-Alsace and Central Europe. He left the service on November 12, 1945, at the rank of Technician 4th Grade.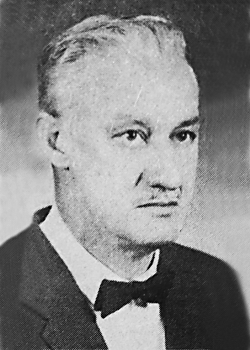 Following his return to the U.S., John married the former Cleo Bertha McGinnis who was born in Pennsylvania and was the daughter of Blair Daniel McGinnis and Edna Amelia Piper. They had three sons, John H. Jr., Dennis F. and William B. He worked as a carpenter and mail carrier in Petersburg and Creek Side. John was active in the Petersburg Volunteer Fire Company, the Huntingdon Moose Lodge, the Letter Carriers Association and the Rock Spring Hunters Club.
He was also a member of the Zion Lutheran Church, Petersburg, and a member and past ruler of the Huntingdon Elks Lodge 976, where he was serving as an esquire at the time of his death. Additionally, he belonged to the William P. Spyker American Legion Post, Alexandria, the Standing Stone Veterans of Foreign Wars Post 1754 and the Forty and Eight society. He also served on the Petersburg Borough Council for 40 years and was president a number of times.
John passed away on September 18, 1993, and was buried in the Cedar Grove Cemetery in Petersburg, Huntingdon, Pennsylvania. We would like to thank his niece, Wendy, and great niece, Lori, for providing information and photos in this tribute. Thank you also to Find-A-Grave member Diane Miles for use of the grave marker photo.