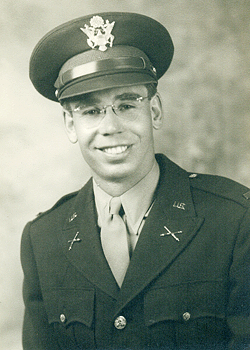 Harold H. Eby
Biography: Harold Hildenbrandt Eby was born on March 3, 1918, in Platteville, Colorado. He was the son of William Louis Eby and Eleanor Margaret Hildenbrandt and attended Longmont High School, graduating in 1936. He then attended Colorado State University and earned a Bachelor of Science Degree in 1940. He went on to further his education at Nebraska University where he studied from 1940 to 1942, receiving his Masters Degree in Chemistry just prior to entering the service.
Service Time: Harold went on active duty on February 26, 1942, and married the former Doris Elizabeth Turner about one month later on March 28, 1942. She was the daughter of Olin Laverne Turner and Georgia Martin and was born in Pawnee City, Nebraska.
Harold's early assignments as a 2nd Lt. led him to Fort Sill, Oklahoma, as part of a Field Artillery unit. He also spent time at the Armed Forces Wheel Vehicle Maintenance School at Ft Knox, Kentucky. He was then sent to Camp Hood, Texas, where he became a Battalion Motor Officer. The next move was to Camp Claiborne, Louisiana, where he functioned as Reconnaissance Company Platoon Leader and Special Services Officer. From there it was back to Camp Hood and assignment to the 607th Tank Destroyer Battalion. He was then chosen to attend the Tank Destroyer Advanced Officers Class. His final TD training within the U.S. came at Camp Cooke, California, and in April of 1944 he was promoted to 1st Lt.
He shipped out with the 607th, arriving in England in April of 1944 and landing on Utah Beach in June of 1944. Harold continued with the unit, serving as the Reconnaissance Officer and then a Unit Commander. He was fluent in both French and German, which was an asset in the front line operations of a Recon. unit. Harold received credit for each of the 607th's five campaigns; Normandy, Northern France, Rhineland, the Ardennes and Central Europe. He earned the American Campaign Medal, the EAME Campaign Medal and the World War II Victory Medal.
At the end of the war, Harold was called upon for perhaps his most important mission. As the unit's Historian, he was tasked with the compilation of the unit's written history. The 67 page book, titled "Tank Busters – The History of the 607th Tank Destroyer Battalion in Combat on the Western Front" was printed in Munich and provides a detailed account of their time in the U.S. and throughout Europe.
Harold was promoted to Captain during the summer of 1945 and served as Armored Reconnaissance Unit Commander, Combat Liaison Officer, Supply and Evacuation Staff Officer and ultimately the Headquarters Company Commander. On June 28, 1945, he was transferred to the 7th Tank Destroyer Group. He was discharged in December of 1945, going into the reserves. He wanted to stay in active service but this request was denied because his career as a chemist was deemed more important and critical to the country's future.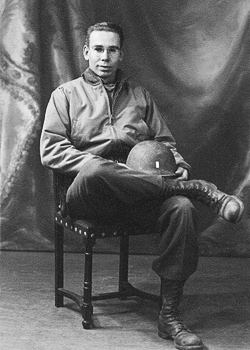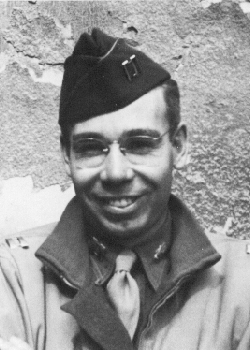 The photo above left was taken on November of 1944 while Harold was in Rombas, France. The right photo is Harold at the rank of Captain in the summer of 1945.
One story, related by his daughter, told about Harold coming to visit her while she was attending college. This was her first experience in a college dorm by herself and he came to attend a football game with her and share a meal. She cooked him some Irish stew, which included lamb, and the smell was quite overwhelming. When he walked into the apartment, he told her it reminded him too much of the smells of war and he could not eat it.
When Harold returned to the U.S., he went back to Nebraska University, receiving his PHD in Organic and Physical Chemistry in 1948. He remained in the Army Reserves until June of 1952. The family made their residence in Ponca City, OK, and together Harold and his wife had three children, Janice born in 1949, Roger in 1953 and Caroline in 1957.
Harold began working for the Continental Oil Co. (Conoco) in 1948 and held a number of positions including Research Chemist, Manager of the Research Chemical Lab Division and Director of Technical Services. In his spare time he enjoyed golf and swimming and was a Rotary member and Past-President. He also served as a Deacon, Elder and Trustee of the local First Presbyterian Church. Harold passed away on July 5, 1994, and was buried in Ponca City, OK.
I want to thank his daughter, Janice, for providing this information as well as a number of photos of her dad and the 607th.