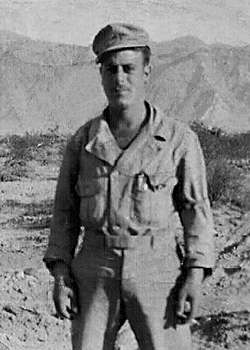 Charles Esposito
Biography: Charles Esposito was born on April 4, 1918, in Johnstown, Pennsylvania. He was the son of Rocco Esposito and Mary Salvia, and attended Joseph Johns Middle School. After leaving school, he worked at the Bethlehem Steel Corporation as a pipe-fitter.
Service Time: Charles entered the service at Altoona, PA, on April 20, 1942. He was assigned to Company B of the 703rd Tank Destroyer battalion. They would ship out from the New York port on the troopship Shawnee. The date was September 4, 1943. They would arrive in England on the 15th and were stationed at Mere, Wiltshire, England, until leaving for France and landing on July 1, 1944.
The 703rd, first saw action near Hautes Vents on July 13th, participating in the Cobra breakout at end of month. On July 29, while at Saint-Lô, Charles was wounded by shrapnel to his hand and abdomen. He was evacuated to a Paris hospital, where he remained for six weeks. He did lose part of his index finger but was able to join up with an Army Corps of Engineer Regiment that took him back to his unit.
While Charles was recuperating, the 703rd was held in reserve during the battle for Mortain in August. They crossed the river Seine on August 26, and reached the Siegfried Line in the vicinity of Eschweiler, Germany, by September 12. The 703rd were the first battalion that converted to M36's beginning on September 30th. They then fought along the West Wall until mid-December, transferring to the Ardennes after the launch of the German offensive. They fought to reduce the Bulge in January, 1945 and joined the drive to Cologne in February and early March. On March 23rd, the 703rd crossed the Rhine River near Honnef and participated in the envelopment of the Ruhr. They finally slashed east to stop at Dessau, by April 14th.
Charles received credit for three of the unit's campaigns and received the Purple Heart for his wounds. He also received the American Theater Medal, EAME Medal and Good Conduct Medal. He left the service at the rank of Private First Class.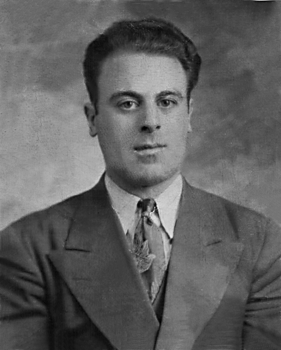 He returned home to Johnstown and his job at Bethlehem Steel. On June 25, 1947, he married the former Antoinette Roy who was also from Johnstown. The couple would have two daughters and one son. In his spare time, Charles enjoyed gardening, cooking and wine making. He was also a member of the American Legion, the VFW and the Sons of Italy.
Charles passed away on June 28, 2002 and was buried in Johnstown. I want to thank Charles' son Ray for providing the photos and information for this tribute.