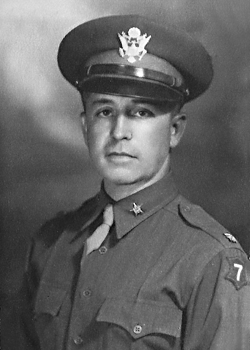 George G. Elms
Biography: George Gordon Elms was born on September 6, 1897, in Fordyce, Greene County, Pennsylvania. He was the son of William Alfred Elms and Elizabeth Alice Gordon and attended Waynesburg High School.
He joined the National Guard, serving in Waynesburg's Company K, which was an Infantry Regiment. The unit was called to duty on the Mexican border in 1916, which was prior to his high school graduation. When the unit returned to Pennsylvania, George graduated and received an appointment to the United States Military Academy at West Point, New York.
During his time at West Point, he was part of E Company and although he entered as part of the class of 1921, due to WWI, their graduation was accelerated to November 1, 1918, just prior to the Armistice on November 11th.
Service Time: As mentioned before, George began his military service as part of the Pennsylvania Guard but his Army career began when he attending Cavalry School in France and then assigned to Fort Riley, Kansas. He would serve with the 8th, 3rd, 2nd and 10th Cavalry Regiments and during the 1920s, and served in the Philippines.
On April 1, 1925, George married the former Bessie McCarty who was born in Charleston, Coles County, Illinois. She was the daughter of Grant Wesley McCarty and Clara M. King. The couple had one daughter, Elizabeth who was born in 1927.
Just prior to WWII, George was serving with the Army General Staff Corps at their West Coast Headquarters. You can see him wearing the General Staff collar pin in the main photo above. George was promoted to Colonel and sent to Command the 7th Tank Destroyer Group in the Advanced Unit Training Center at Camp Hood, Texas. He was then called upon to lead the 2nd Tank Destroyer Group.
The 2nd was activated at Fort Sam Houston, TX, on Mar. 15, 1942, and moved to Camp Hood, TX, on July 1, 1942. They went to Camp Claiborne, Louisiana, on Apr. 9, 1943. Preparations for overseas shipment were conducted at Camp Kilmer, NJ, on Dec. 15th, and they shipped from the New York Port of Embarkation on Dec. 29th, aboard the British ship H.M.T. Samaria. The unit arrived in England on Jan. 8, 1944, and landed in France on Jun. 26, 1944. They supported the XIX Corps and acted as their Anti-Tank Section as they moved into Belgium on Sep. 3, 1944, and then into Holland on Sep. 20, 1944. They then moved back into Belgium on September 28th and then back into Holland on Nov. 3, 1944.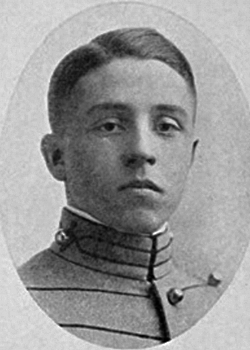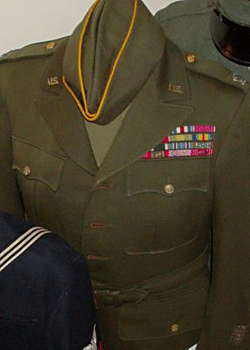 The unit moved into Germany late in December and on January 22, 1945, George was moved to XIX Corps for duty as their Deputy Chief of Staff. He then served with the Constabulary Forces in Germany, initially commanding the 5th Constabulary Regiment and then the 2nd Constabulary Regiment, which was headquartered in Augsburg, Germany. His awards included the Silver Star, Legion of Merit, two Bronze Stars, the Legion of Honor Chevalier, Croix de Guerre with palm from France, Order of Leopold with palm, and Croix de Guerre with palm from Belgium.
After the war, George took a position as Assistant Commandant at the Ground General School, located at Fort Riley, Kansas. In his spare time, George's love of horses had him participating in horse shows and serving as a judge. After his retirement in 1954, the family resided in El Paso, Texas. He was also a member of the Retired Officers Association and Military Order of the World Wars.
George passed away on April 22, 1988, and was buried in the Arlington National Cemetery, in Arlington, Virginia. I want to thank George's granddaughter, Kristin, for providing the information and main photo for this tribute. The West Point photo is used by permission of Digital Data Online, Inc. and E-Yearbook.com.