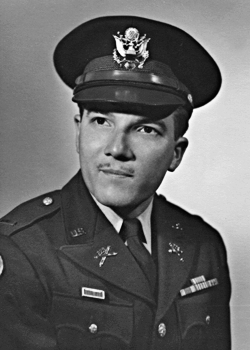 Gordon D. Evens
Biography: Gordon DeHaven Evens was born on June 16, 1924, in Glenshaw, Pennsylvania. He was the son of Charles Evens and Harriett DeHaven and attended local schools.
Service Time: Gordon entered the service in February of 1945 and, after a brief period of training to be an anti-tank gun crewmen, was shipped to the E.T.O. (European Theater of Operations) with a short stop in Scotland before entering the personnel replacement system. He was then assigned to Company C of the 820th Tank Destroyer Battalion.
When Gordon joined the unit, they had converted to M18 tank destroyers. They supported operations in the Ruhr Pocket in April, 1945, and crossed Germany to the Mesto Touskov area in Czechoslovakia by early May. Gordon received credit for both the Rhineland and Central Europe Campaigns and returned to the U.S. in July.
He continued his service in the Pennsylvania National Guard and also continued his education at Grove City College, in Grove City, PA. In May of 1947, he married the former Vivian R. White and the new couple would have three sons, Thomas, born in 1948, Jeffrey in 1951 and Scott in 1969. The family made their residence in Grove City. Gordon worked as a Securities and Industrial Sales Representative for the SKF and OKITE companies.
In 1950, he was called back to active duty as part of the 229th Field Artillery Battalion of the PA National Guard. He was sent to Officers Training, graduating as a Lieutenant in the Field Artillery, and also attended Photo-Intel school. He did an eleven month tour in Korea, assigned to Headquarters, I Corps Artillery and serving as Executive Officer. He was separated from the service in January of 1954. During his military career, he had trained and attended schools at a number of military facilities, including Camp Atterbury, Indiana, Fort Riley, Kansas and Fort Sill, Oklahoma.
Gordon was awarded the National Defense Service Medal, the UN Service Medal, the Armed Forces Service Medal, the Republic of Korea – Presidential Unit Citation and the Korean Service Medal with two Bronze Campaign Stars. The photo below left is Gordon, during the occupation period after WWII, standing at the border of the Russian and U.S. sectors in Western Czechoslovakia. The photo at right is Sgt. Gordon at Camp Atterbury.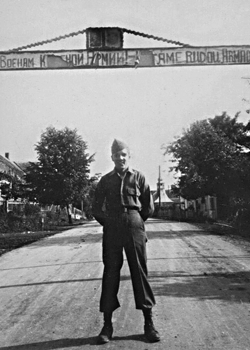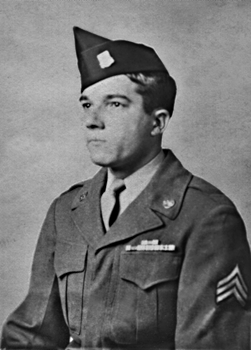 From 1963 through 1983, he worked as an agent for the Prudential Insurance Company. In his spare time, Gordon enjoyed auto mechanics and was the President of the Bucks County Life, Underwriters Association. He passed away on July 14, 1995, and was buried in the Newtown Cemetery in Newtown, PA.
Gordon's military service continued the proud tradition started by his grandfather who served as a deep sea diver for the English Navy. His father was a cavalry soldier for the English Army in WWI. His oldest son, Tom, had a 20 year career in the USAF as a C-130 pilot. His youngest son, Scott, is a USAF Master Sergeant, Air-frame Repair Specialist, in the California Air Guard.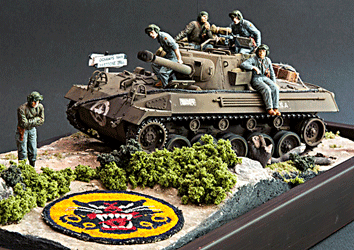 I want to thank Gordon's entire family for their service to this country and particularly his son, Tom, for providing the photos and information for this tribute.
The photo to the left is a diorama of an M18 "Hellcat" tank destroyer and crew, built by Tom, in honor of his father's service. Nice job, Tom!