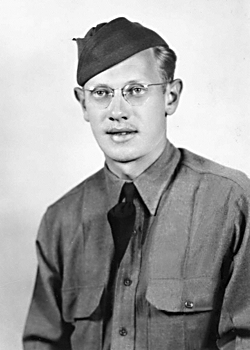 John P. Eaton
Biography: John Proudfit Eaton, Jr., was born on May 20, 1918, in Portland, Oregon. He was the son of John P. Eaton and Zella Alice Proudfit and had one sister. He worked as a messenger for the Southern Pacific Railroad prior to entering the military. John married Nancy Jane Jones on October 23, 1942, in Portland. She was born in Union, OR, and was the daughter of Thomas E. Jones and Bertha M. Barbre.
Service Time: John entered the Army in March, 1942. He was assigned to C Company, 607th Tank Destroyer Battalion, on the 20th of that same month. On May the 1st, he was transferred to Headquarters Company. At some point during the summer, he was sent, on Detached Service, to Fort Knox, Kentucky, for radio operator training. He graduated on August 24, 1942, and was immediately sent on DS (Detached Service) to Troop C, 7th Reconnaissance Squadron at Camp San Luis Obispo, California. He was back with HQ Company by mid-September and continued training until he was sent on Special Duty to the Tank Destroyer Center at Camp Hood, Texas, on January 20, 1943. From March 15-25, 1943, he attended the Enlisted Men's Communication School at Camp Hood.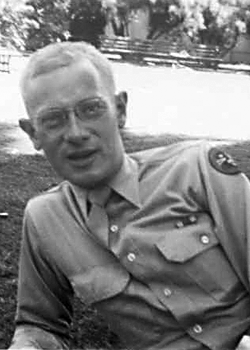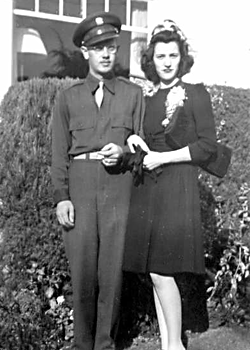 The photo above right is John with his wife, Nancy.
The 607th continued training for the remainder of 1943 and into early 1944. On April 13th, they sailed for England, arriving in Liverpool on the 21st. Additional training ensued and Headquarters Company, along with A Company, landed on Utah Beach, Normandy, France, on June 17th. As of the 19th, the Battalion was attached to the 90th Infantry Division and most of the guns were firing indirect as part of Divisional Artillery.
On June 30th, the Battalion Command Post was located in Cretteville, France, and on this date, John was listed as Missing In Action, on the HQ Company Morning Report. After the war, records indicated that he had been injured and captured by the Germans. He died July 3, 1944, in Gerville-la-Foret, in the Mayor's barn, which the Germans were using as a field hospital. He was buried in the village churchyard but his body has never been recovered. He is listed on the wall of the Memorial to the Missing, Normandy American Cemetery and Memorial, Colleville-sur-Mer, France. You can see the memorial below.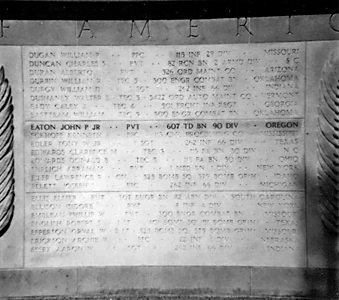 The photos and a portion of the information used in this tribute were provided by the family. Additional material was retrieved from unit records.