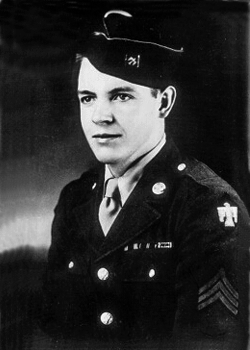 Corbett W. Edwards
Biography: Corbett Wythe Edwards, who went by Wythe, was born on December 13, 1923, in Herald, Virginia. He was the son of Corbett Walker Edwards and Myrtle L. Rice and attended Coeburn High School. His enlistment record indicates that he worked in some type of warehouse occupation prior to the war. He also had worked at a service station and drove a delivery truck for a dry cleaner. His draft/registration card says that he was working at the Hercules Powder Company in Radford, VA.
Service Time: Wythe entered the service on February 6, 1943, at Abingdon, Virginia. After his initial training, he was assigned to Company A of the 645th Tank Destroyer Battalion. The unit shipped out from the U.S. in late April, 1943, and arrived in Algeria on May 27th. While in North Africa, they continued their training and made plans for the invasion of Italy.
They landed at Paestum, Italy, on September 9, 1943, and participated in the drive up the Italian Peninsula. They then shifted to the Anzio beachhead in February, 1944, and withdrew for training in June to participate in Operation Dragoon. The unit landed in southern France on August 15th and advanced to the Vosges Mountains, near Grandvillers, by October.
Joining the assault on the Siegfried Line in December near Bobenthal, Germany, they fought the German Nordwind offensive in January, 1945, and converted to M36 tank destroyers beginning late January. Wythe named his TD "Shirley" after his sweetheart back home. Attacking the Siegfried Line again south of Sarreguemines in March, they crossed the Rhine at Worms on March 25th. The unit helped reduce the Nazi stand at Aschaffenburg at month's end.
On April 7th, near Sunderau and Untereisbach, Germany, TD Commander Sgt. C. Wythe Edwards was informed that an enemy convoy was in the vicinity. With one squad of infantry in support, they attacked the enemy unit which included several artillery pieces and self-propelled guns. Although facing superior forces, they continued their attack and destroyed several enemy vehicles and assisted in the capture of the rest. For their actions, Sgt. Edwards and his crew, consisting of Pvt. Roy C. Bell, Pfc. Ralph J. Barrale, Pfc. Sam B. Poblano and Pvt. Jack Rosen were each awarded the Bronze Star.
G.O. #259 – Award of Bronze Star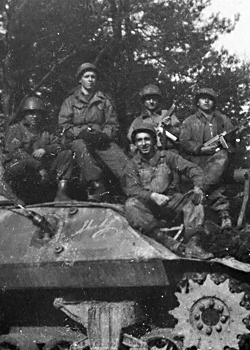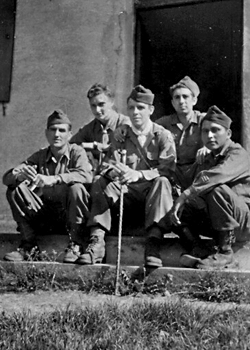 In the photo above left, you can see Wythe, sitting second from left, with his crew on their TD named "Shirley". At right, Wythe is shown holding a cane with his crew around him.

The 645th went on to help capture Nürnberg in mid-April and finally reach Munich on April 29th. By mid-May the unit was setting up their Command Post and trying to find housing in the nearby towns. They were also trying to find civilian vehilces to save wear and tear on their Army vehicles. Wythe commandeered a German SS Command Car complete with spotlight, fog light, quarter inch armor and seats that folded down forming a bed. Wythe and another soldier, Joe Finklestein, worked on the car all night, cleaning and going over each of its systems. The next morning Wythe proudly started the engine and shifted it into gear. It travelled forward about 20 feet before it stopped due to a burned out clutch.
In addition to the Bronze Star, Wythe was also awarded the EAME, the WWII Victory, Army of Occupation and the Good Conduct Medals. He received credit for four of the unit's campaigns and he left the service on October 23, 1945, at Fort George G. Meade, Maryland.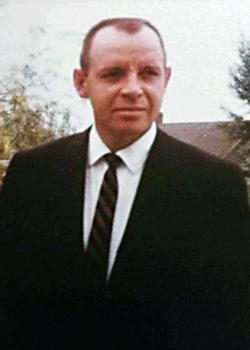 Now back in the U.S., Wythe married the former Shirley Neil Culbertson who was born in Coeburn, Virginia, and was the daughter of Carl Culbertson and Virginia Crenshaw. The new couple made their home in Kingsport, Tennessee, and Wythe continued his education at the University of Tennessee for Electrical Engineering and then attended the University of Tennessee College of Law, graduating in 1952. He began his career as a claims adjuster for State Farm Insurance and continued in that position for a few years until he began practicing law, in Blountville, TN, in a partnership with Hal Carr and later Hal Massengill. He was later elected Judge of the General Sessions Court.
Wythe and Shirley had six children, Gregory, born in 1946, Anthony in 1948, Leslie in 1951, George in 1954, Jeanne in 1956, and Sarah in 1960. In his spare time, he enjoyed spending time with his family and playing golf. He was a member of the VFW, Moose Club, Elks Club, Tennessee Bar Association, and American Bar Association.
He continued to serve with distinction as a judge until his death on June 19, 1978. He was buried in the Greenwood Cemetery in Coeburn, VA. I want to thank Wythe's son for providing the information and photos for this tribute. I was able to contact the Edwards family after finding their father's dog tag for sale on Ebay. I spoke with Anthony, and then Greg, who was able to purchase the tag and bring it back to the family.