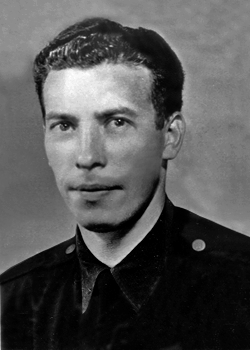 Sam S. Ficarola
Biography: Sam Santo Ficarola was born on December 5, 1918, in Brooklyn, New York. He was the son of Mario Ficarola and Vitima Bilardello and attended Alexander Hamilton High School through the 10th grade. Sam then worked at the Berke Cake Company.
Service Time: Sam entered the service on January 5, 1943, at New York City. During his training, he qualified as a sharpshooter with the M1 Carbine, the Thompson Sub Machine gun and both the 50 and 30 caliber machine guns. His military specialty is listed as cook and he was assigned to Headquarters Company of the 824th Tank Destroyer Battalion.
The unit was originally formed as a self-propelled battalion but was reorganized as a towed battalion in May 1943. They trained within the U.S and shipped out from the New York port on on October 14, 1944. They arrived at Marseilles, France, on October 29, 1944, and were deployed near Sarrebourg on November 27th. Fighting around Bitche and against Siegfried Line defences in December, they battled the German Nordwind offensive in January 1945.
The 824th converted to M18 tank destroyers in March and crossed the Rhine on the last day of the month. They joined the stiff fight at Heilbronn on April 8th and then advanced to the Austrian border by month's end. Their final actions involved clearing the Bavarian mountains and taking Innsbruck in early May.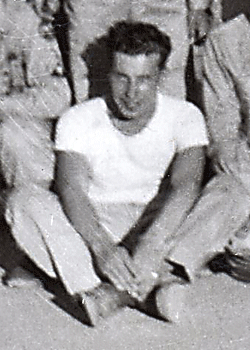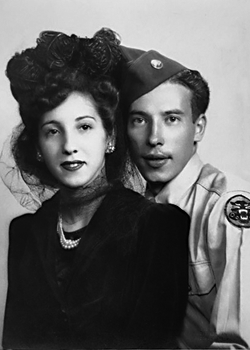 Sam shipped back to the U.S. on July 1, 1945, arriving on the 14th. On the 28th of that same month, while on leave, he married the former Mary Calamia. She was also born in Brooklyn and was the daughter of Giacomo Calamia and Leonora D'Antoni. Sam was still in the Army for another 5 months but was discharged on January 10, 1946, at the Indiantown Gap Military Reservation. He received the EAME Medal with credit for the two campaigns of Rhineland and Central Europe. He also received the WWII Victory, the American Theater and the Good Conduct Medals and left the service at the rank of Technician 5th Grade.
He continued serving others by becoming a New York City Police Officer, serving as a patrolman for 28 years, retiring in 1980. Sam and Mary had two children, Mario, born in 1951 and Vivian in 1954. In his spare time, Sam enjoyed traveling and gardening. He was also a member of the Patrolman Benevolent Association.
Sam passed away on June 4, 2008 and was buried in the Cemetery of the Holy Rood in Westbury, Nassau County, NY. I want to thank Sam's son, Mario, for providing the photos and information for this tribute.