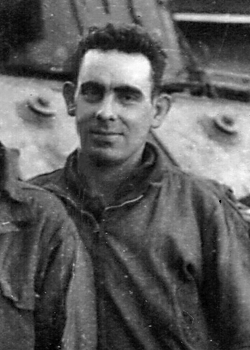 William H. French
Biography: William H. French was born on June 28, 1918, in Owosso, Michigan. He was the son of William French and Nellie G. Dean and grew up in Flint, MI. He attended Central High School in Flint and after leaving school, worked at the post office.
Service Time: William enlisted in the Army in June of 1941 and, after his basic training, was assigned to 1st Platoon of B Company of the 703rd Tank Destroyer Battalion.
The 703rd received additional training at other military facilities including Camp Hood, Texas, the Desert Training Center, Indio, California and Fort Pickett, Virginia. The unit traveled to Indiantown Gap Military Reservation in Pennsylvania for training and final preparations before shipping overseas. They then boarded ships and left the New York port on September 4, 1943, arriving in England on the 15th. The unit spent 10 months there before being loaded on transports and making their way across the English Channel, landing in Normandy, France, on July 1, 1944.
They first saw action near Hautes Vents on July 13th, participating in the Cobra breakout at end of month. They were held in reserve during the Mortain battle in August and crossed the River Seine on August 26th. Reaching the Siegfried Line in the vicinity of Eschweiler, Germany, by September 12th, they were the first battalion that converted to M36s beginning on the 30th.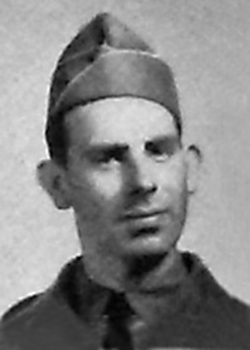 The photo at left is from the 3rd Armored Division Historical and Pictorial Review book, which was created while they were stationed at Camp Polk, Louisania, in 1941-1942.
They 703rd fought along the West Wall until mid-December, but were then transferred to the Ardennes after the launch of the German offensive. Fighting to reduce the Bulge in January, 1945. It was on the 13th that William's 1st platoon took positions in the woods just east of Baclain, Belgium. This position allowed them to cover the town and the road that ran eastward out of town. They were under constant artillery fire and any movement by the men caused an increase in the frequency of shelling.
On the morning of the 15th, the men began to use a blow torch to free the turret, which had frozen fast due to the low temperatures. Enemy observers saw the flame and immediately directed fire on their position. The Germans fired high-explosive shells and one hit the mast base of the tank destroyer and Pfc. William H. French was killed.
William was posthumously awarded the Purple Heart with Oak Leaf Cluster signifying that this was his second award of the Purple Heart. He was later buried in the American War Cemetery at Henri-Chapelle, Plot G, Row 4, Grave 28.
I want to thank Charles Czajkowski for providing photos and information regarding this soldier. I also want to thank Des Philippet for the use of the grave marker photo and Della M. Gamalski, of the Flint Genealogical Society, for helping Charles in his research.