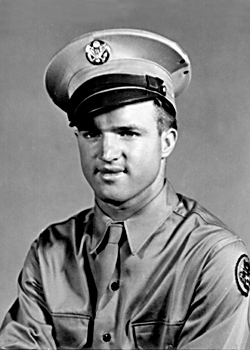 Melvin L. Farris
Biography: Melvin Lloyd Farris was born on April 20, 1923, in Kansas. He was the youngest of seven children born to Jesse Franklin Farris and Ada Ethyl Farris (Keltner). Melvin's father died around 1925, as a result of his work in a nickel mine. It was very difficult for the family during the depression and several of his siblings were forced to live in orphanages. Melvin was one of the younger children, so he was taken in by his aunt and uncle, Oral and Marie Boothe.
Ada would ultimately move Melvin and his siblings to southern California, where he would attend Chaffey High School, in Ontario, CA. He graduated in 1942, and then worked at the Armstrong Nursery, also in Ontario.
Service Time: At the age of 19, Melvin was drafted into the Army and was inducted on January 9, 1943. After his initial training, he was assigned to Company C of the 823rd Tank Destroyer Battalion and trained with them in the U.S. The unit then shipped out from the Boston port on April 6, 1944, and arrived in England on April 17th. After an additional two months of preparations, they boarded transports and landed at Omaha Beach on June 24th.
They were equipped with towed 3-inch guns and supported the drive on St. Lô, fighting at Mortain in August. The unit passed through Belgium and Holland, entering Germany on September 17th and fought along the Siegfried Line in October, including the encirclement of Aachen. They converted to M10 tank destroyers, beginning in November, and then shifted to the Ardennes in late December to eliminate the Bulge in January, 1945. The 823rd crossed the Roer River on February 24th and the Rhine on March 24th.
They then raced eastward to the Elbe River at Magdeburg. The unit history identifies that on April 13th, Company C's third platoon, including Sgt. Melvin L. Farris and Pfc. Floyd B. Looper, in their M10, were responsible for disabling a German Panzerjaeger. Their tank claim report actually identified it as a Mk V Panther. The enemy tank was positioned to defend the road between Angern and Rogatz, Germany, acting as a road block. It took Melvin's team six rounds of APC (Armor Piercing Capped ammunition) to destroy the tank's drive sprocket. It was the last piece of enemy equipment claimed by the 823rd. They began military occupation duties on April 21st.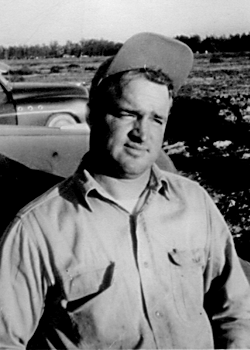 The 823rd received credit for campaigns in Normandy, Northern France, Rhineland, the Ardennes and Central Europe. Melvin was honorably discharged on October 29, 1945. He received a Purple Heart but never spoke of his injuries or his experiences. The family has always believed he had injuries which included shrapnel that they were not able to remove.
After returning home, Melvin went back to work as the Manager of the Armstrong Nursery. Melvin never forgot Oral & Marie's kindness for taking him in as a young child. He would stop by after work almost daily to visit or help them. Norman Owens, a nephew of Melvin's, who had served in the Navy, remembers him as one of the finest men he ever met. Every time Norman was home on leave, Melvin would make sure his nephew had enough spending money and a vehicle to drive, even offering his own vehicle, if Norman needed it.
Melvin also bought a house for his mother and took care of her until he passed away due to heart problems on August 8, 1960. His mother died exactly one week later on the 15th. Melvin was buried in the Bellevue Cemetery in Ontario, CA.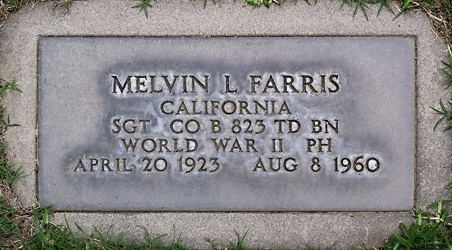 I want to thank Melvin's relative, Ron Boothe, for providing the photos and information for this tribute. I also want to thank Find A Grave contributor, Cecilia, for the use of the grave marker photo.