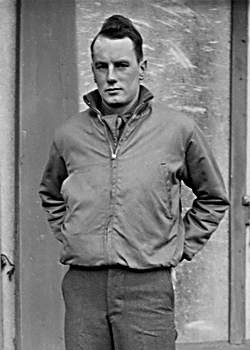 Wallace C. Forbush Jr.
The following tribute was researched and written by Lowell Silverman. Lowell came across Lt. Forbush while doing research on his grandfather, Dr. Robert Silverman, who served at the 32nd Station Hospital.
Biography: Wallace Clifford Forbush, Jr. was born in Puerto Rico on September 19, 1918, the only child of Wallace C. Forbush, Sr. (1891–1926) and Dorothy E. Forbush (née Wilner, 1891–1960). He graduated from Bennett High School in Buffalo, New York in 1937 and from Cornell University in February 1942.
Shortly after going on active duty, on May 17, 1942, he married Jessie Margaret Rankin (1918–2010) in Interlaken, New York.
Service Time: Forbush was commissioned as an Infantry Branch 2nd lieutenant and went on active duty on May 15, 1942. A July 5, 1944 newspaper article in The Ithaca Journal stated that "Going overseas in August, 1942, Forbush was stationed for a time in England and then participated in the North African campaign before going to Italy." Since the 894th Tank Destroyer Battalion shipped out for Liverpool on August 6, 1942, he was likely a member of the unit by then. On March 1, 1943, he was assigned to Company "C" under the command of Baker D. Newton. Newton later described Forbush as "a wonderful guy, and one of the bravest men I have ever known." Forbush was promoted to 1st lieutenant effective June 29, 1943. After converting from M-3 to M-10 tank destroyers at the Fifth Army Tank Destroyer Training Center near Sebdou, Algeria, during the summer of 1943, the 894th shipped out for Italy that fall.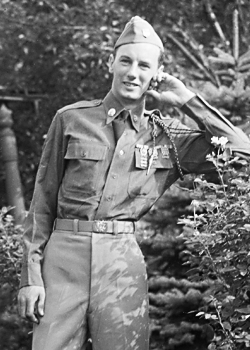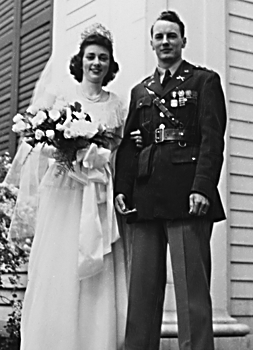 In early February 1944, Lieutenant Forbush was serving as a platoon leader at the Anzio beachhead. On the night of February 3-4, 1944, the Germans launched an attack against the Campoleone salient, where Company "C" was supporting the British 1st Infantry Division. Forbush's final engagement began near Aprilia early on the morning of February 4. In a June 18, 1944 letter to Forbush's wife that was quoted at length in The Ithaca Journal on July 5, 1944, his commanding officer, Captain Baker D. Newton wrote:
"'Wally took his platoon of M-10 tank destroyers to assist another platoon which was very hard pressed and practically surrounded during a German counterattack. He immediately led his platoon toward three German tanks, which were attacking our right flank. Just before coming into their sight, Wally left the protection of his own vehicle and went to the top of a small hill to locate the enemy tanks.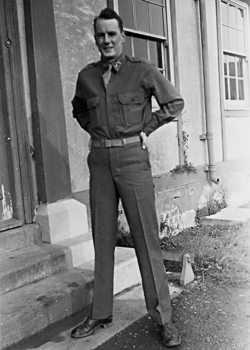 'He saw them and ran back and warned his crew; then jumped on to the outside of another M-10 and was giving instruction to his sergeant when the fight started. Wally's leading tank was hit and the blast of the explosion knocked him unconscious off the second M-10.
'After all the enemy tanks were destroyed, the sergeant worked his way back to Wally and looked him over. He said that there appeared to be not one mark on him; but it was impossible to get him out because a dash of several yards had to be made across open ground under machine-gun fire to get to and from the little draw where Wally was. Within a few minutes the Germans had taken that ground and our units were pushed back.'"
The Ithaca Journal – July 5, 1944
Forbush was also mentioned in one version of a February 5, 1944 article by Daniel De Luce of the Associated Press, which was printed in papers nationwide the following day. Although most versions of the article omitted it, at least one paper included a passage which must have referred to Forbush, given the similar details and the fact that no other company officers were killed that day:
"Newton's command mourned the loss of a heroic officer in yesterday's engagement. Scouting on foot in advance the officer saw a Tiger climbing a ridge and directed the fire by Sergeant [Eugene K.] Holsonback's vehicle which destroyed it when within ten yards. The officer was killed by return fire from another Tiger which had approached at an angle."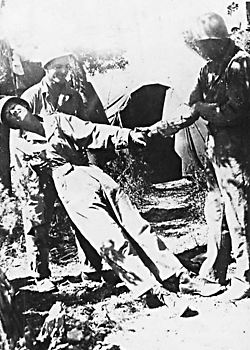 In the photo on left, you can see a few of the unit's officers horsing around…Lt. Forbush pretends to faint into the arms of Lt. Joseph R. Uhler, while Lt. Herbert Siercks (on right) is holding his hand.
This version of the incident is slightly different from Newton's account, indicating that Forbush was giving instructions to Sergeant Holsonback's and was actually killed when Holsonback's M-10 was hit, not another one. Another Associated Press story, published in the Fort Lauderdale Daily News on March 8, 1944, omitted any mention of Forbush but confirms that Sergeant Holsonback's M-10 was knocked out and his entire crew wounded seconds after it destroyed the first Tiger. The story, which gave the engagement distance as 50 yards rather than 10, quoted Holsonback's gunner, Private First Class Paul O. Elder, at length:
"'We knew the German tank had to come into an exposed position on the top of the hill, and we just sat there waiting for him.
'He never had a chance to use his own guns. I fired one round and hit him right in the front. The tank seemed to shudder and stop. The crew made no effort to leave the tank, and we concluded that they were all killed by concussion.
'Just at that moment, a tank which followed the Mark VI up the hill caught us in its sights and we were knocked out. The shell hit us right in front, and the concussion was pretty bad. Shrapnel was flying around inside the tank destroyer and fire broke out. Everybody in the crew but myself got burns, but I had my face in the sights and wore gloves, and I guess that saved me.'"
Fort Lauderdale Daily News – March 8, 1944
An entry in the Journal of Headquarters 894th Tank Destroyer Battalion at 1022 hrs on February 4, 1944 stated that a message had been received from Company "C": "2nd Plat[oon] Co C 4 casualties, 2 fatal (Lt Forbush and one gun commander) 2 serious 2 babies [M-10s] knocked out."
However, despite that, the February 8, 1944 Company "C" morning report listed Forbush as missing in action following the February 4 battle. The reasons for the change aren't exactly clear, but are presumably due to the lack of a body, perhaps combined with the eyewitness account which described him as merely unconscious. In retrospect, it appears the entry in the S-3 journal was correct: Lieutenant Forbush was probably either killed outright or mortally wounded by the Tiger's fire.
Although Captain Newton was transferred to the 805th Tank Destroyer Battalion in April 1944, after the breakout from Anzio, he returned to the scene of the February 4 battle. Unable to find any grave in the vicinity after looking for two days, he wrote that he hoped it meant that Forbush had been taken prisoner. The agony of Forbush's family in year that followed his disappearance can only be imagined. A March 7, 1945 article in the Buffalo Evening News (Overseas Edition) stated that Forbush's mother, "an art teacher in Buffalo public schools, has examined through a magnifying glass an Associated Press wire-photo reproduction of a German newspaper picture showing American prisoners marching past the Colosseum in Rome. She is convinced from the contours of the head and face, his carriage and other mannerisms that he is her son, Lieut. Wallace C. Forbush. Artist friends have scrutinized the picture and agree with her."
Buffalo Evening News Article – March 7, 1945
In fact, Lieutenant Forbush's body had been identified by February 13, 1945; his family was notified by April 26, 1945, when the sad news appeared in The Ithaca Journal. He was initially buried at the U.S. Military Cemetery in Nettuno, Italy. Lieutenant Forbush's body was disinterred in 1948 and his remains reburied at the Rutland Rural Cemetery in Massachusetts.
The family related that when Wally's wife Jessie passed away in 2010, at the age of 92, she was buried holding Wally's dog tags and a book of poems he had written. She had never remarried and was still wearing her wedding ring.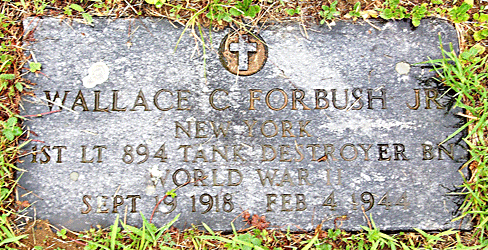 I want to thank Lowell Silverman for his work and to the Baker D. Newton family for providing the Buffalo Evening News Article and to the Joseph R. Uhler family for the officers photo. Thank you also to The Rankin family for the wedding photo and to Find A Grave contributor kdkb for the use of the grave marker photo.