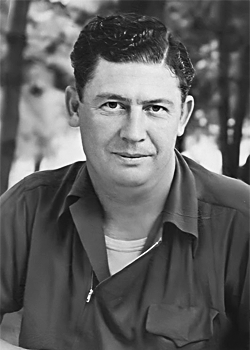 Johnny T. Flournoy
The following tribute was researched and written by Lowell Silverman. Lowell came across Flournoy while doing research on his grandfather, Dr. Robert Silverman, who served at the 32nd Station Hospital.
Biography: Johnny T. Flournoy was born in Meriwether County, Georgia, the son of Eddy Walker Flournoy (a farmer) and Annie Katherine Flournoy. He was recorded on the census on January 17, 1920, living in Meriwether County. By the time of the next census was taken on April 11, 1930, the family had moved to Troup County, Georgia, where Flournoy's parents were working in a cotton mill.
According to his Find A Grave entry, Flournoy was in the Civilian Conservation Corps in the 1930s, where he worked at Pine Mountain, Georgia.
Service Time: Flournoy volunteered for the Regular Army at Fort McPherson, Georgia, on January 17, 1940. Private Flournoy was recorded on the census on April 12, 1940, living in barracks at Fort Benning, Georgia. He was listed as a member of the 4th Anti-Tank Battalion. The 4th Anti-Tank Battalion had been activated at Fort Benning on January 1, 1940. It was originally equipped with .50 machine guns and, after a few months, towed 37 mm anti-tank guns. On June 1, 1940, the unit was redesignated as the 94th Anti-Tank Battalion, and as the 894th Tank Destroyer Battalion on December 15, 1941. As of December 25, 1941, Private 1st Class Flournoy was a member of Company "C," 894th Tank Destroyer Battalion.

At some point, probably by July 3, 1942, since he did not appear in a company photo, Flournoy transferred out of the unit, eventually joining the 1st Tank Destroyer Group by the summer of 1943. The 1st Tank Destroyer Group was activated on March 30, 1942, at Camp Bowie, Texas. Several T.D. battalions (including the 894th from 1942 until February 10, 1943) were attached to the group for administrative reasons; the 1st Tank Destroyer Group did not have any combat capacity of its own. The unit shipped out to England on August 18, 1942, arriving in England on August 31, 1942. The group arrived in Algeria in mid-January 1943.
Technician 5th Grade Flournoy was serving with the 1st Tank Destroyer Group at the Fifth Army Tank Destroyer Training Center in Sebdou, Algeria, when he was transferred to the 32nd Station Hospital in nearby Tlemcen on August 8, 1943 per Special Order No 17, Headquarters 7th Army. After arriving at the 32nd Station Hospital, word arrived that he had been "Erroneously carried as Tech 5th Gr Reduced to gr of Pvt 7/26/43" per Special Order No. 53, Headquarters 1st Tank Destroyer Group. The reason for the demotion was unclear, but apparently administrative.
About a month into 32nd Station Hospital operations in Caserta, Italy, Flournoy was promoted back to technician 5th grade on February 19, 1944. He was "reduced, without prejudice" to the rank of private on March 5, 1944. (Another man demoted without prejudice on the same date, Technician 4th Grade Stephen J. Sitar, was reinstated to his previous grade upon his return to the United States. The demotions were apparently required for the transfer back to the United States. It is unclear why the men couldn't be transferred in grade.) On March 9, 1944, Flournoy was transferred to Personnel Center 1 per Special Order No. 67, Headquarters Peninsular Base Section.
According to his Find a Grave entry, after returning from Italy, Flournoy "was then stationed in Topeka, KS at Winter General Hospital where his supervisor was May Brown. There he met her daughter Maella." Apparently, he was discharged from the U.S. Army in November 1944.
After leaving the military, he made his home in LaGrange, Georgia, and worked as a cook. He married Maella Marie Brown (1926–2016) in Phenix City, Alabama, on February 28, 1945. The couple raised three daughters and two sons, Patricia Ann, Linda Gail, John Darrell, Sharon Kay and Rickey Joe. The Flournoys returned to his Maella's hometown of Topeka where Johnny was a painter and dry wall contractor. In 1960, the family moved back to Georgia and settled in Columbus.
He loved hunting and fishing and playing cards. He also coached Babe Ruth baseball and in his later years he planted gardens of vegetables. He was a member of the American Legion Post 35 and just priro to his death was the oldest living member of the Veterans of Foreign Wars Post 665.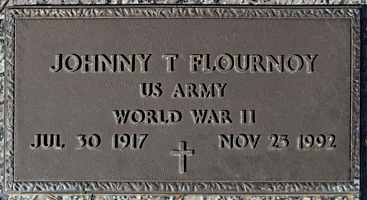 Johnny passed away on November 25, 1992, and was buried in the Parkhill Cemetery in Columbus, GA.
In addition to Lowell, thank you to Find A Grave contributors, Cathy Flournoy, Naomi Snider (Yocom) McFadden and Ann Haynes for the use of their photos and information.