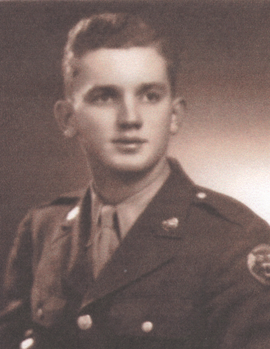 Cecil R. French
Biography: Cecil Robert "Bob" French. was born on March 26, 1926, in Birmingham, Alabama. He was the son of Cecil Mansfield French and Mabel Pointer French and attended Robert E. Lee Grammar School and Ramsay High School, both in Birmingham.
Service Time: Bob entered the service on June 21, 1944, at Fort McPherson in Atlanta, Georgia, and went on to complete his training at Fort Hood, Texas. He trained as a tank destroyer crewman and was quickly shipped to Germany as a replacement for the 899th Tank Destroyer Battalion. He was placed in Company B, while the unit was attached to the 9th Infantry Division, near the Roer River. They would soon be engaged at the Ludendorf Bridge at Remagen, Germany, and crossed it on March 10, 1945. In less than 6 weeks they met up with the Russians at the Elbe River.
Bob stayed with the unit, taking on occupational duties, until he was sent home in June of 1946, thereafter being discharged at Camp Bragg, North Carolina. After returning home, he returned to school under the G.I. Bill and attended the University of Alabama, graduating in 1950. Between his studies, Bob married the former Doris Hill in 1949. She was from Brooklyn, New York. Bob never quite put the military behind him and joined the ROTC program at the school, later receiving the DMW (Distinguished Military Student) award and a Commission in the Army. He was sent to the 3rd Infantry Division, 30th Regiment, Heavy Tank Company, which was at Fort Benning, GA. When the Korean War called, Bob was sent in as a platoon leader with the 81mm Mortars and then with the 75th Recoil-less Rifle Platoon, which was part of the 7th Infantry Regiment.
Wanting to continue to serve, Bob volunteered for service in the Vietnam conflict and worked in a quartermaster supply and service battalion in Qui Nhon. In October of 1970, he was promoted to Colonel and retired 3 years later in December. His long list of awards includes the Combat Infantry Badge, the Distinguished Unit Citation, the Bronze Star, Legion of Merit and the Army Commendation with Oak Leaf Cluster.
Bob and Doris had two daughters, Dori and Annette, during these years of service. He continued his legacy of service by serving as President of the WWII Tank-Destroyer-Fort Benning Association, which would later be expanded into the WWII Tank Destroyer Society. He held numerous positions within the Society, including being their first President, Secretary, Treasurer and editor of the group's, Panther Press, newsletter.
After retiring, Bob took up residence in Dadeville, Alabama, with his wife.
I want to thank Col. French for providing this information and allowing me to use his information on the 899th on the website. I also want to thank his daughter, Dori, for her assistance with this project.