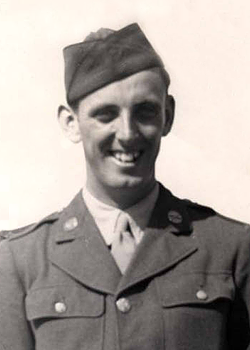 Joseph M. Fisher
Biography: Joseph "Joe" Morton Fisher was born February 15, 1922, in Summitville, Indiana. He was the younger of two children born to Arthur Conroy Fisher and Vanchie Dell Heritage. The family moved to Muncie, IN, settling there when Joe was five. After graduating from Muncie Central High School in 1939, he worked as a mechanic's helper at the Ford agency and at a service station. He met his future wife, Mary Catherine Kabel in July of 1942 and gave her an engagement ring on December 16, 1942.
Service Time: Joe was inducted into the army on December 23, 1942 and assigned to Company C of the 607th Tank Destroyer Battalion while at Camp Hood, TX. Following basic training in Texas, the unit moved to San Luis Obispo, CA. Mary Catherine traveled there by train and they were married on April 11, 1943. Training continued in California and Texas until the unit moved by train to Boston, MA. The unit then boarded the U.S.S. Wakefield, bound for Southampton, England. Part of the 607th landed at Utah Beach on June 17, 1944 with the remainder, including "C" Company, coming ashore on June 23rd. This later date followed a severe storm in the English Channel. While waiting offshore on the ship, Joe remembers another ship going around his, hitting a mine and almost immediately sinking with a heavy loss of life. Upon landing, he saw a German hand grenade lying alongside the road and realized this was war and there was no turning back.
One of his most memorable moments was on September 13, 1944, when his crew was chosen to fire rounds into Germany using their 3" towed gun. These were the first rounds fired by the 90th Division and XX Corps into Germany and believed to be the first rounds to fall into Germany from troops of the Third Army.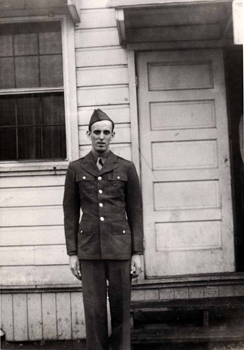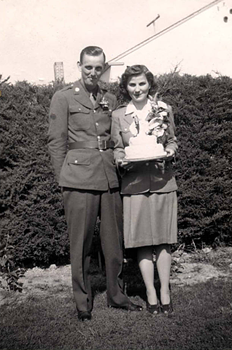 Joe was awarded a Purple Heart for wounds he received on April 21, 1945. He also earned a Bronze Star and the EAME Theatre Ribbon with five battle stars for each of the campaigns the 607th participated in. He was transferred to the 771st Tank Destroyer Battalion on June 29, 1945, with other members of the 607th and returned to the U.S., in November of that year, on the troopship, Joseph H. Nicholson. The ship docked at Newport News, Virginia, and he was discharged, at the rank of Sergeant, at Camp Atterbury, IN, on December 2, 1945.
Joe returned home to Muncie and he and Catherine had two sons, Danny born in 1947 and Dennis in 1951. Sadly, Danny passed away in 2010. Joe had returned to the service station business as an operator and eventually purchased his own station in 1955. He operated the station until 1974, when he went to work in the audit department at First Merchant Bank. He later worked for General Motors in Muncie and Marion, IN, and retired from the GM truck and bus plant in Ft. Wayne, IN, on March 1,1993.
Joe was a member of the Masonic Delaware County Lodge, Scottish Rite Indianapolis, Kiwanis, Madison Street United Methodist Church (now Urban Light Community Church), and a life-long member of the VFW.

Joe's mother kept all of his letters and many other mementos from his time in the service in a large album. The album was beginning to show its age and Joe and Catherine decided to donate everything to Ball State University in Muncie. Ball State University painstakingly digitized them and posted them on the internet. You can see the entire collection at the following link:
Joseph Fisher World War II Scrapbook and Letters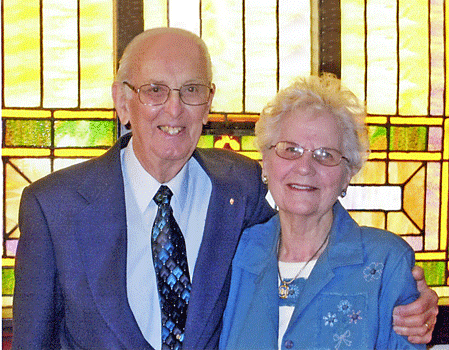 Joe and Catherine celebrated their 68th wedding anniversary on April, 11, 2011. We would like to thank Joe for his service to the country and wish both he and Catherine a continued long and happy life together.
We are sad to announce the passing of Joe on July 22, 2019. He was buried at Elm Ridge Cemetery in Muncie.

We want to thank Ball State University for the use of the WWII images in this tribute.