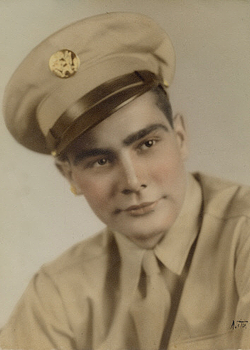 Douglas Filbeck
Biography: Douglas Filbeck was born on June 8, 1923, in Cherryvale, Kansas. He was the son of Alexander Filbeck and Agnes Branham and attended local schools to the sixth grade. He got a job at the Sunkist Company in Santa Ana, California, to help suport his family.
Service Time: Douglas entered the service on January 20, 1943 and was sent to Camp Hood, Texas to receive his basic training. He spent 8 weeks in Cooks and Bakers School but would ultimately make his mark as a TD driver, in Company B, of the 661st Tank Destroyer Battalion. Douglas shipped out with the unit, landing in Le Havre, France on January 21, 1945. The 661st was equipped with M18 tank destroyers. They saw action at Rocherath-Krinkelt, Belgium, in February and fought along the Siegfried Line near Helenthal, Germany, in March. The unit crossed the Rhine late in March and advanced across Germany to Leipzig by mid April. He left the service on March 13, 1946, at Fort MacArthur, CA as a Technician 4th Grade and received credit for both the unit's campaigns, Rhineland and Central Europe as well as the American Campaign Medal, EAME Campaign Medal, Good Conduct Medal, and the WWII Victory Medal.
Just prior to Douglas shipping overseas, he married the former Margaret Crouch on September 17, 1944, at the First Baptist Church in Temple, Texas. The church was just 30 miles from Camp Hood. Margaret was the daughter of Halsey Crouch and Eva Berg of Orange Country, CA. The couple lived in Anaheim, CA and had four children, Janet born in 1947, Leon in 1949, Tommy in 1954 and David in 1956.
When Douglas returned from the service, he initially worked on his father-in-law's farm and later at the Peerless Pipe Company, which was owned by his uncle. He left to start his own excavation company in Orange County, CA. Douglas loved the outdoors and enjoyed both hunting and fishing as well as woodworking.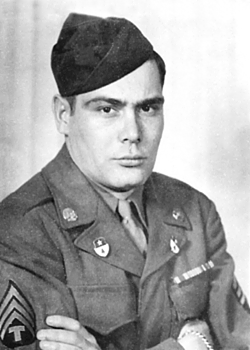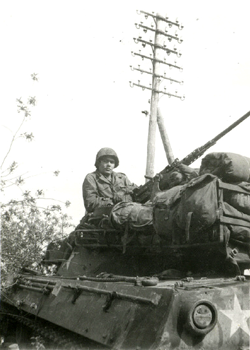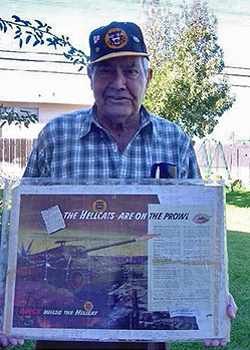 The photos above show Douglas at the end of the war on left and in his TD named "Blazing Bitch" on the right. At the time, he was parked along a road guarding it for a four-star general that was supposed to pass by. The last shot is Douglas, just two years before his passing, proudly holding an advertisement for the M18 "Hellcat" Tank Destroyer that he served in. The ad was signed by other members of the unit.
I want to thank Douglas' daughter, Janet, for supplying this information and the photos of her dad as well as providing a number of photos of the 661st.