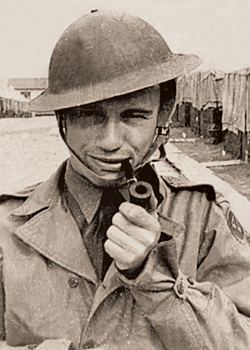 Peter Fortunato
Biography: Peter Fortunato was born in Casoli, Abruzzo, Italy, on March 9, 1920. He was the son of Joseph Fortunato and Florinda Civitella who moved to the United States and into Eastern Pennsylvania. Peter graduated from Conestoga High School located in Berwyn, PA. Prior to WWII, he worked as a barber.

Service Time: Peter entered the service on November 14, 1941, at New Cumberland, PA. He was assigned to B Company of the 640th Tank Destroyer Battalion and served with them throughout their time in the Pacific, receiving credit for their four campaigns – Bismarck Archipelago, Eastern Mandates, Luzon and the Southern Philippines. He also received the Asiatic-Pacific Service Medal, the American Theater Service Medal, American Defense Medal, the Philippine Liberation Ribbon with 1 Bronze Star and the Good Conduct Medal. He left the service at the rank of Sergeant.

When Peter returned to the U.S., he also returned to his former job as a barber and made his residence in the Bryn Mawr, PA, area. He would later work in television repair and become a major appliance dealer and property owner. In his spare time, he enjoyed flying, golf, traveling and photography. He was also a member of the Lions Club.
Peter passed away on August 11, 2004, and was buried in Conshohocken, PA. The photo immediately below shows Peter with some of the native children while staying at a hospital in the Philippines. The last photo shows Peter, in the center, while attending one of the units' reunions in Las Vegas. Alfredo Villalobos is standing on the left. I want to thank Peter's grand-nephew, John Giacchino, for providing this information and the first two photos of his great-uncle.