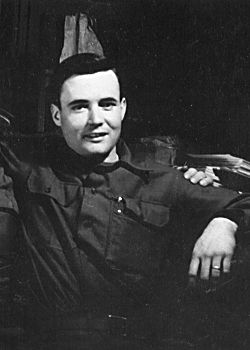 Williard G. Fullerton
Biography: Williard G. Fullerton was born in Freeport, Pennsylvania, on March 8, 1921. He was the son of Samuel G. and Helen B. Clowes Fullerton and attended Freeport High School, graduating in 1939. He married his high school sweetheart, Mary J. Coffman, on Aug. 5, 1941. She was originally from Sarver, PA

Service Time: Williard entered the service on January 20, 1943, at Pittsburgh, PA. He was assigned A Company of the 817th Tank Destroyer Battalion and became a TD Commander. He served with the unit throughout Europe, receiving credit for campaigns in Northern France, the Rhineland and Central Europe. He reached the rank of the Staff Sergeant before leaving the service in 1945. He was a close friend to Homer Rush who served with him. You can see a photo of the two of them in the Unit Photo Gallery.
When Williard returned to the U.S., he worked for the Allegheny Ludlum Steel Corp. of Brackenridge, PA. He was with the company for 42 years as a design draftsman and an air quality control project engineer, retiring in 1983. Williard and his wife had four children, Samuel, Daniel, William and Sally. In 1957, he moved the family to a farm near Sarver and in his spare time he enjoyed farming, gardening and deer hunting. He was a member of the Buffalo Presbyterian Church, a charter member of the Buffalo Township Volunteer Fire Department, a charter and life member of the Sarver Vets Club, a life member of the Saxonburg VFW and an adult leader of the Winfield Sarver 4-H Club.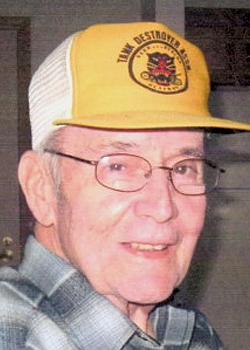 Williard passed away on May 18, 2011, at the age of 90 and was buried at the Freeport Cemetery in Freeport, PA. At the time of his death, he had 8 grandchildren and 13 great-grandchildren.
Portions of this text and later photo were provided by the Fox Funeral Home in Saxonburg, PA. You can visit their website at www.foxfuneralhomeinc.com.