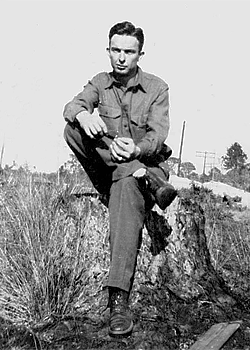 John D. Farley
Biography: John Daniel Farley was born on April 20, 1911 in Chandler, Indiana, which is in Warrick County. He was the son of Daniel Farley and Anna Cooper and attended Newburgh High School, graduating in 1929. His enlistment record identifies him as an office worker or clerk prior to his time in the service.

Service Time: John entered the service on March 23, 1942, at Fort Benjamin Harrison in Indiana. On January 29th, 1943, while on leave, John travelled to St. Louis, Missouri, and married the former Alma Kramer. She was the daughter of William and Margaret Kramer. The new couple made their home in Evansville , IN.
John was assigned to Headquarters Company of the 638th Tank Destroyer battalion, which saw action throughout Europe. The unit was equipped with M18's and supported operations against the Siegfried Line near Prummern, Germany. Late in December, they moved into Belgium, fighting to reduce the Bulge. They then supported actions at the Roer and Rhine rivers, reaching the Elbe in April.
On Feb. 24, 1945, while in Julich, Germany, John was severely wounded. He was sent to a field hospital and ultimately back to the U.S., where he spent many months in the Crile Military Hospital, in Cleveland, Ohio. He was later sent to Pasadena, CA, where he was honorably discharged from the service. He received a Purple Heart and left the service at the rank of Corporal.
John returned to his home and found work at the Servel Company, which manufactured gas powered refrigerators. The couple had one son, Paul, born in 1946. John passed away on September 11, 1993 and was buried in the Park Lawn Cemetery in Evansville, IN. I want to thank John's son, Paul, for providing this information and photo of his father.