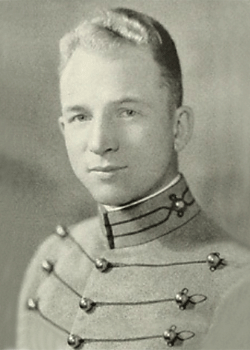 Allen H. Foreman
Biography: Allen Harvey Foreman was born on February 26, 1910, in Tionesta, which is in Forest County, Pennsylvania. He was the son of Vivian and Hazel Foreman and attended public school in Oil City where the family had moved just prior to him starting school. He graduated high school in 1928 and worked as a reporter for the Oil City Blizzard. In 1929, he left his job as a reporter and began taking classes at Maryville College in Tennessee.
Service Time: Allen enlisted in the Army in May, 1930, and served in the 29th Infantry, which was stationed at Fort Benning, Georgia. In July of 1931, he entered the United States Military Academy and graduated as a Second Lieutenant in 1935. You can see his yearbook photo to the left.
After graduation, Allen served a number of years in the Philippines before returning to the U.S. sometime before Pearl Harbor was attacked. He was then assigned to the 805th Tank Destroyer Battalion serving in Tunisia and Italy. He was later assigned to the 1st Tank Destroyer Group and served as commanding officer from March 1, 1945 to July of that same year. The 1st TD Group participated in seven campaigns, including Tunisia, Naples-Foggia, Normandy, Northern France, Rhineland, the Ardennes and Central Europe.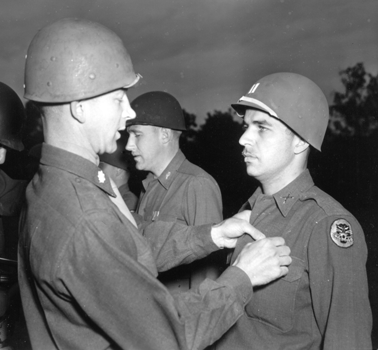 The photo to the left shows Lt. Colonel Foreman pinning a Bronze Star on fellow 1st TD Group member, Captain Willard B. Young. Interestingly, Young had also served with the 805th Tank Destroyer Battalion in Tunisia while Foreman was with the unit.
Allen continued his service to this country as part of the Inspector General's office at the Pentagon. He would make numerous trips to Japan in efforts to check the military governorship and rebuilding efforts of General MacAurthur. Allen retired on August 31, 1965, as Assistant Chief of Staff of the First U.S. Army. At the time, he had been stationed at the unit's Headquarters at Governor's Island, NY.
After leaving the Army, Allen went back to school and received a Master's degree from Villanova University and then taught English at the Valley Forge Military Academy from 1966 to 1975. In his spare time, he enjoyed golfing (never using a cart), bowling, gardening and walking and discussing politics. He was a member of the Kane Rotary Club and the Methodist Church in East Kane, PA. Additionally, he belonged to the Society of Mayflower Descendants and the Retired officers Association.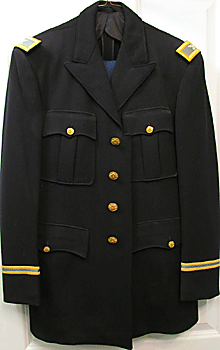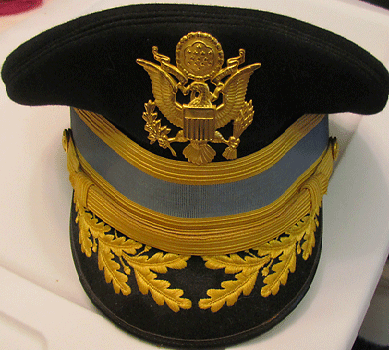 Shown above is Colonel Foreman's dress jacket and hat.
On December 21, 1935, Allen married the former Marjorie Luella Anderson, who was a former high school classmate from Oil City. The couple had four sons, Allen Jr., Robert, Thomas and James. After the death of Marjorie in 1985, Allen married Mrs. L. Catherine Galbo, who was also a longtime resident of Kane, PA.
Allen passed away on August 19, 2004, and was laid to rest at West Point, NY.
The main photo for this article is used by permission of Digital Data Online, Inc. and E-Yearbook.com.