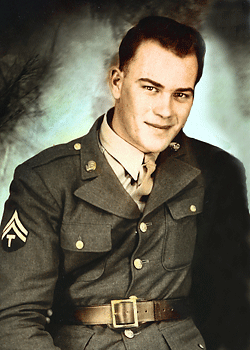 William R. Ford
Biography: William Richard Ford was born on May 13, 1922, in Blackford County, Indiana. He was the son of Raymond Earl Ford and Lena Esther Herbaugh and attended the Chester Center school. After leaving school, Robert worked on the family farm. He is the brother of Robert R. Ford who is honored elsewhere on the site.
Service Time: William entered the service on December 21, 1942. He is believed to have been assigned to the 809th Tank Destroyer Battalion, which was the same unit where his brother served. The 809th arrived in England on December 8th, 1944. During their time in England, they would have continued their training, both with their destroyers and small weapons.
They landed in Le Havre, France on January 20th, 1945, with M18's and quickly joined operations at the Roer River, the Rhine River and the Ruhr Pocket. They converted to M36's in April and assisted in clearing the enemy from the Harz Mountains. The 809th received credit for both the Rhineland and Central Europe Campaigns.
After leaving the service, William married the former Clysta Ruth Payne. The couple had six children, William, born in 1947, Mildred, in 1948, Frankie, in 1950, Linda, in 1952, Sharon, in 1954 and Jackie in 1956.
William passed away on June 16, 1979, and was buried in the Gardens of Memory Cemetery, located in Muncie, IN.
I want to thank William's niece, Elaine, for supplying the information and photo of her uncle.