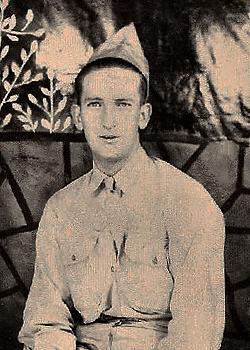 Raymond H. Followell
Biography: Raymond "Ray" Howard Followell was born on October 12, 1922, in Sullivan, Indiana. He was the son of Noah Preston and Anna Followell and attended Sullivan elementary. After leaving school, Ray worked as a farmer.

Service Time: Ray entered the service on December 28, 1942, at Cincinnati, Ohio. He did his basic training at Camp Bowie, Texas, and was assigned to Company B, of the 808th Tank Destroyer Battalion. In April of 1943, they were transferred to Camp Hood, TX, for specialized tank destroyer training. In July, they moved to Camp Phillips, Wisconsin, for mountain training and they also assisted with crop harvesting at a number of the local farms. Then it was onto Camp McCoy, WI, in October for winter training.
The 808th finally moved to Camp Shanks, New York, for final preparations before shipping to the ETO. They left the New York port on August 11, 1944, aboard the USS Hermitage and arrived in England 11 days later. A month later, on September 19, they disembarked on Utah Beach in Normandy, France. They entered the line east of the Moselle River six days later. The unit remained in that area until transferring to the Ardennes, in late December, where they protected the XII Corps flank through January 1945.
The 808th converted from towed 3″ guns to the M36 in February. They then supported the drive to the Rhine in March and the river crossings south of Boppard, Germany, late that same month. They joined the Third Army's drive through Erfurt, Nürnberg, and then moved south into Bavaria before advancing to Linz and Austria in early May. Ray was awarded a Bronze Star for his actions with the unit and at least 2 Oak Leaf clusters for subsequent awards.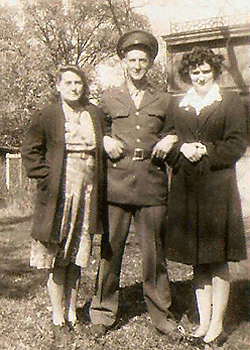 When Ray returned to the U.S., he married Virginia on October 12, 1945. She was from Cinncinnati, OH. The couple had five girls, starting in 1946, with the last being born in 1958. Ray worked as a C3 Government Welder but in his spare time he loved bowling, golf, and of course, his daughters. He was also a member of the VFW and Moose Lodge.
Ray passed away in October, 2007, and was buried in the Gate of Heaven Cemetery in Cincinnati. I want to thank Ray's daughter, Diana, for her assistance and materials for this tribute. I also want to thank her for her continued work as the webmaster and driving force behind the www.808th.com website, which is dedicated to the men that served in the 808th Tank Destroyer Battalion.