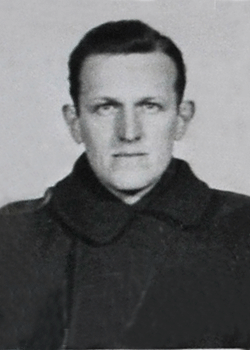 Ernest V. Focht
Biography:  Ernest Virgil Focht was born on November 1, 1914, in Tyrone, Pennsylvania.  He was the son of Gerald Roy Focht and Mary Helen Bernosky and graduated from Tyrone High School in 1933.  He held a number of jobs, including service station attendant, coffee packer for Tyrone Coffee Concern and as a general laborer for the West Virginia Pulp and Paper Company in Tyrone.
Service Time:  Ernest entered the service on April 15, 1941, at Altoona, PA.  He was assigned to the 105th Anti-tank Battalion, which was re-designated as the 805th Tank Destroyer Battalion, on December 15, 1941. Ernest served in Company A and received training at Camp Meade, Maryland, and Camp Hood, Texas, before shipping from the New York port. His military occupation was Heavy Truck Driver. The 805th arrived in England, on August 18, 1942, but shipped out a few months later, landing in Algiers, Algeria, on January 17, 1943. 
On February 14, the battalion was ordered to send A Company and one Reconnaissance Platoon to report to the Commanding Officer of the Combat Command at Sbeitla.  They took up positions east of the town, as part of a Task Force, under command of Colonel Kerns.  Two platoons were detached from the unit and took up independent positions, south and east of the town.  On the 16th, the Company was forced to withdraw, under heavy enemy pressure, and return to the battalion at Kasserine.  Initially it was identified that 2 officers and 8 enlisted men were captured and 37 other enlisted men were MIA (Missing in Action). Ernest was officially captured on February 17, 1943.
Western Union – MIA/POW Messages
Ernest's family was notified on March 11, by telegraph, that he was Missing in Action.  A month later, on April 17, they received a second message identifying that he was a Prisoner of War. Ernest spent time in a number of camps, including Sidi Bouzid and Tunis in Tunisia, Palermo and Messina in Sicily, St. Johns Ferril and Capua in Italy and finally, 3 different Stalags in Germany; 7A in Moosburg, 3B in Furstenburg and 3A in Luckenwald.
POW Registration for Moosburg Camp
Ernest was permitted to write a message which was read by a German announcer over short-wave radio station DXP in Berlin.  Ernest's message was one of 10 that were read during the program.  Irwin F. Bender, of Oberlin, PA, received and transcribed the message and sent it to the Fochts family on April 24, 1943.
Shortwave Message to Fochts Family
The Luckenwald Camp was liberated by Russian soldiers, on April 22, 1945, and he was returned to the U.S. Army on May 8, 1945. Ernest returned to the U.S. on June 2nd and left the service on September 11, 1945 at the rank of Staff Sergeant.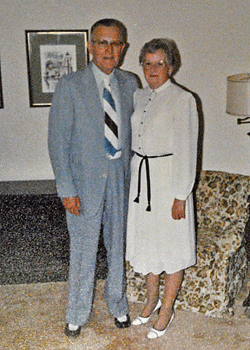 Ernest married the former Elizabeth LaRue Cassidy on July 7, 1945. She was the daughter of Clayton Samuel Cassidy and Rhonda Rebecca James and was born in Altoona, PA.  The couple made their home in Dillsburg, PA and Ernest went to work at the Mechanicsburg Naval Supply Depot.  They had two children, Stephen, born in 1948 and Karen in 1951.  In his spare time, Ernest enjoyed singing in the community and church choirs, reading, gardening and supporting his grandchildrens' school and sporting events.  He was a member of the Masons, the VFW and the American Ex-Prisoners of War Organization.
Ernest passed away on February 25, 2003.  He was buried in the Dillsburg Cemetery, Dillsburg, PA. I want to thank Ernest's son-in-law, Michael, for providing the materials for this tribute.