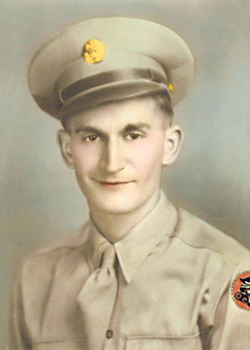 Edward Fuller Jr.
Biography: Edward "Jack" Fuller Jr. was born on September 9, 1922, in Alexandria, Indiana. He was the son of Edward Fuller Sr. and Cora Silvey and attended a one room school house in Madison County, Indiana. After leaving school, Jack worked on the family farm to help his father until later working at the Delco Remy facility in Anderson, IN. He would later regret not being able to go to high school and play basketball.
Service Time: Jack entered service on December 18, 1942, and was assigned to Company B of the 635th Tank Destroyer Battalion. The unit arrived Liverpool, England, on February 19, 1944 and later billeted at Toddington, near Cheltenham, England, while receiving final training for the D-Day invasion.
They landed at Omaha Beach on June 8th and advanced through northern France and Belgium. From there, they next operated in Roetgen-Aachen sector and the Hürtgen Forest during the fall. The 635th then moved to Belgium on December 22nd during the Battle of the Bulge. They returned to the Aachen area in January and supported the drive toward the Rhine River near Cologne, Germany. They were then transferred to the Seventh Army and almost immediately to the Third Army on April 1, 1945. Crossing the Rhine at Mannheim, the unit advanced through central Germany to Austria. Jack participated in each of the unit's campaigns, including Normandy, Northern France, Rhineland, Ardennes-Alsace and Central Europe. He left the service at the rank of Pfc.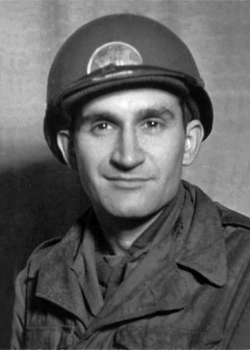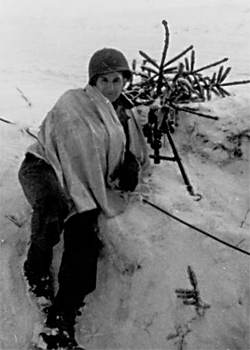 Jack returned to the U.S. and his job at Delco Remy, which was a Division of General Motors. On November 9, 1945, he married the former Roberta Mae Townsend who was born in New Lancaster, IN. She was the daughter of Earl Townsend and Mildred Morgan. The new couple made their home in Alexandria and had five children, Dennis born in 1946, Donald in 1948, Michael in 1950, Bobby in 1954 and Tamara in 1959.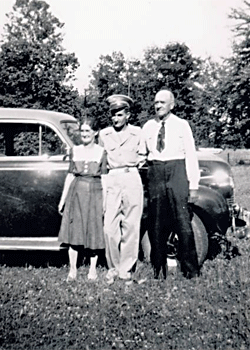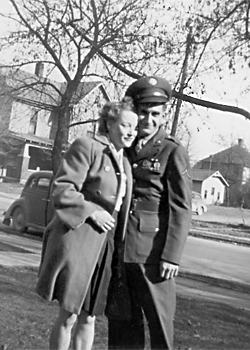 Above left is Jack with his parents while on leave. The right photo is of Jack with Roberta soon after he returned to the U.S.

Jack retired from Delco Remy in 1986 after 44 years of service. He enjoyed country music and Indiana high school basketball. He was also a member of UAW 662. Jack passed away on April 7, 2011, and was buried in the I.O.O.F. Cemetery in Alexandria.
I want to thank Jack's son, Dennis, for providing the photos and Jack's grand-nephew, Ed, for his assistance with this tribute.