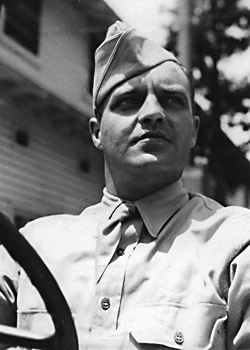 Walter M. Foster
Biography: Walter Max Foster was born on December 31, 1910, in Cicero, Indiana. He was the son of Fred W. Foster and Clara Bobest and attended Culver High School, graduating in 1928. Although details are not available, he also received credit for one year of higher education in either a college or technical school. He worked as a sales manager for the Real Silk Company, which manufactured hosiery. On May 29, 1940, Walter married the former Ruth E. Merrifield who was born in Brooke, Indiana. She was the daughter of Hugh Merrifield and Mabel Ross and the new couple made their residence in Indianapolis, Indiana.
Service Time: Walter entered the service on May 6, 1942, at Indianapolis was assigned to Company C of the 894th Tank Destroyer Battalion. His interest in amateur radio probably helped him obtain his military specialty of radio technician. Throughout the war, he was tasked with setting up communication systems for the unit.
The 894th shipped out from the New York port on August 6, 1942, arriving in England on the 17th. There they received some additional training before boarding a ship for North Africa. They were committed to battle on February 20, 1943, at the Kasserine Pass in Tunisia and supported the capture of Bizerte. They were shipped across the Mediterranean Sea, and landed in Italy in late October of 1943. The unit was stationed in the vicinity of Pignataro, in the Migniano sector, as of December and were then transferred to the Anzio beachhead on January 25, 1944. At Anzio, the battalion supported mainly British troops.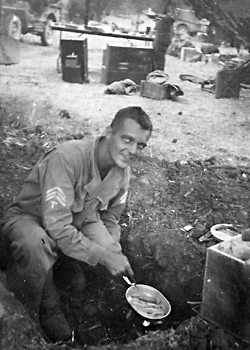 They entered Rome in June and crossed the Arno River, at Pisa, in September. The unit was mired at Porretta Terme in late 1944 through early 1945, but was able to enter Genoa on April 27th. Walter received the Good Conduct medal and the EAME medal and was credited with 7 campaigns, including the North Appenines, Algeria-French Morocco, Tunisia, Sicily, the Po Valley, Naples-Foggia and Rome-Arno. He left the service at Camp Atterbury, Indiana, on August 26, 1945, at the rank of Technician 5th Grade.
Walter returned to Indianapolis and his wife Ruth. The couple had one son, James, born in 1947. Walter also returned to the Real Silk Company, working in sales until leaving in the 1950s. He opened an appliance business and later sold newspaper ads until he retired in the late 1960s. In his spare time, he enjoyed amateur radio and hunting. Walter passed away on February 20, 1991, and was buried in the Cicero Cemetery in Cicero, Indiana.
I want to thank Walter's son, Jim, for supplying the photos and information used in this tribute.