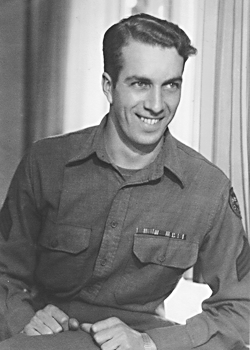 Leroy C. Flick
Biography: Leroy C. Flick was born on May 12, 1920, in Sugarcreek Township, Armstrong County, Pennsylvania. He was one of of 10 children born to James E. Flick and Gertrude Blanche Snyder. He attended a one room country school through the grammar levels and at the age of 12, his mother died. He worked at a number of jobs, including the coal mines, Johnson's Market and the Kittanning Sandwich Shop, where his sister also worked. They both lived in a rooming house while working there. He dreamed of someday having his own restaurant.
Service Time: Leroy entered the service on May 16, 1942, at Pittsburgh, PA, and was assigned to the Reconnaissance Company of the 814th Tank Destroyer Battalion.
On November 26, 1942, he married the former Olive Jane Wagner, who was born in Karns City, PA, and was the daughter of Harry B. Wagner and Bertha I. McElravy. The new couple had met in Kaylor, PA when they were both attending a concert. Jane initially followed Leroy during his training in Louisiana where they shared an apartment with another man from the unit, Joseph Krol and his wife Mildred.
The 814th shipped out from Halifax, Nova Scotia, on February 15, 1944, and arrived at Grenoch, Scotland, on the 22nd. After some additional training in the United Kingdom, they landed at Utah Beach in France on August 8th, equipped with M10s.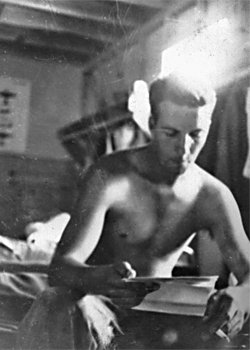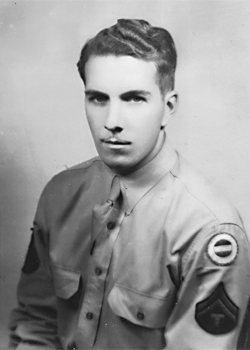 They raced across France that same month and participated in fighting around Metz in September. They were then transferred to the Peel Marshes in Holland in late September and began re-equipping with M36s in October. The 814th supported Ninth Army's drive toward the Roer River in November and were reassigned, with the 7th Armored Division, to the Ardennes on December 17th, participating in the defense of St. Vith, Belgium.
They supported operations against the West Wall in February, 1945, crossing the Rhine River at Remagen on March 23rd. They finally helped reduce the Ruhr Pocket in April and drove east to the Elbe River, crossing it and reaching the Baltic coast on May 3rd. Leroy received credit for each of the unit's campaigns, including Northern France, Rhineland, Ardennes-Alsace and Central Europe. He was awarded the Bronze Star, the EAME medal and the Good Conduct Medal. Leroy was discharged on October 22, 1945, at Indiantown Gap Military Reservation in PA. He left the service at the rank of Technical Sergeant.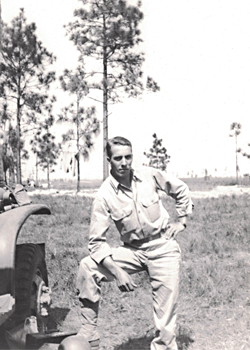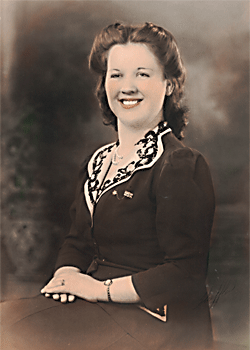 Leroy returned home to Jane, initially living with her parents and his parents until they purchased a home in Ford City, PA, which was along the Allegheny River. He found work as a salesman for the Fidelity Health and Accident Insurance Company. He later worked for the O.K. Heilman Motor Freight Company before opening a small neighborhood grocery store while still running a home improvement business. The couple had two daughters, Victoria, born in 1947, and Beverly in 1948. In addition to his businesses and family, Leroy enjoyed boating, water skiing, fishing and hunting. The family spent every weekend on the river and Leroy built and sold wooden boats as a hobby.
Since he hadn't been able to go to high school, it was important for him to complete his education so he went back to school and received his G.E.D. on April 13, 1966. This date was about the same time his daughters were graduating high school. Leroy kept in contact with a number of men from the unit, including Bob Best, Walter Scott and Walter Kehs. He kept a list of the men from Christmas cards they had sent. Two of his brothers also served in WWII, Wesley in the Pacific and Kenneth in Europe.
Leroy had suffered from lung issues since the war and passed away on December 19, 1986. He was buried in the St. Paul's Reformed Church cemetery in Sugarcreek Twp. PA. I want to thank Leroy's daughter, Vickie, for providing the photos and information for this tribute. She has also provided us with the photos that her father brought home from the war showing many of the people, places, and equipment of the 814th.