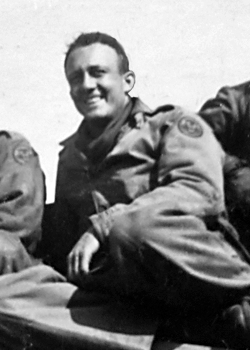 Edward G. Fischer
Biography: Edward George Fischer was born on December 11, 1916, in New York City, New York. He was the son of George Fischer and Lucy Kelly and attended local schools before finding work on the New York Stock Exchange.
Service Time: Edward entered the service and was assigned to Company B of the 807th Tank Destroyer Battalion. They shipped out from the New York port on August 11, 1944, and arrived in England on the 22nd. Less than a month later, they landed at Utah Beach on September 18th with towed 3″ anti-tank guns.
They initially fought in the Metz sector from September to November and attacked toward Saarlautern in November and December. Battling the German Nordwind offensive in January, 1945, the 807th then shifted north for the offensive to the Rhine in March. They defended the Rhine River bridges in April and converted to the M18 tank destroyer in time to join the drive through Bavaria late in the month. They finally reached the vicinity of Salzburg, Austria, in early May. The unit received credit for the Rhineland, Ardennes-Alsace and Central Europe campaigns.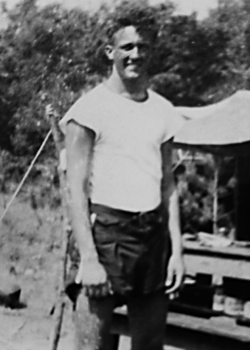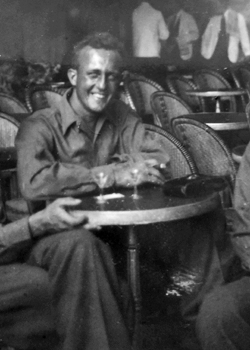 Edward returned home and found work as a cable maker at the Sperry Gyroscope Company in Lake Success, NY. On June 30, 1949, he married the former Agnes T. Daly, who was born in New York City and was the daughter of Patrick Daly and Annie Howley. The new couple made their home in Astoria and later Sunnyside, NY. In 1990, they moved to Port Ritchey, Florida. The couple had two children, Eugene, born in 1950, and Regina in 1958.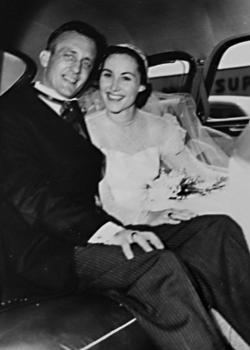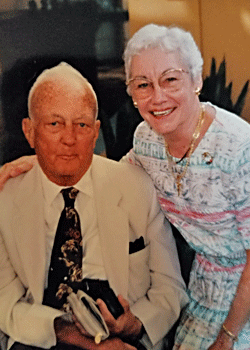 Edward was a member of the Queen of Angels Parish in NYC and the St. Michaels the Archangel Parish, Florida. He also attended a number of reunions of the 807th TD Battalion. He passed away on March 15, 2005, and was interred in the Florida National Cemetery, in Bushnell, Florida.
I want to thank Edward's daughter, Regina, for providing information and photos for this tribute. I also want to thank Edward's son, Eugene, "Gene", who started a website about the 807th back in the 1990's. He was a veteran of the Vietnam war, serving in the U.S. Air Force. Gene contacted me some years ago but passed away before his father could be added to this site. He was interred beside his father.