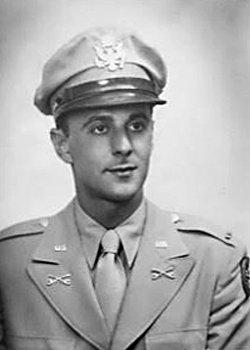 Philip Fidler
Biography: Philip Fidler was born on February 27, 1917, in Detroit, Michigan. He was the son of Abraham and Reva Corrin Fidler and attended local schools through the 9th grade. He then found work as a photographer in New York City.
Service Time: Philip entered the service on April 25, 1941, at New York City and was sent to Camp Hood, Texas, where he was chosen for Officer Candidate School. He graduated as a 2nd Lieutenant on April 25, 1942, and was briefly assigned to the 3rd Tank Destroyer Group at Camp Bowie, Texas. The 818th Tank Destroyer Battalion was attached to the 3rd on December 12th and Philip was reassigned to the Reconnaissance Company of the 818th, taking command of one of the platoons a month later.
The unit shipped out from the New York port on October 20, 1943, and arrived in North Ireland on November 1st. They landed in France on D+36 with towed guns and advanced across France during August and September to the area of Metz.
On November 4, 1944, Philip's platoon of tank destroyers was in the vicinity of Metz and fighting to capture Fort Driant and its many surrounding fortifications. Not only was Philip able to take out a machine gun nest hidden in a tree, he also knocked out its supporting personnel and supply vehicle with his .50 caliber machine gun. Although they had come under artillery fire at their ridge position overlooking the Moselle River, the platoon destroyed or disabled five enemy tanks to the great pleasure of their Commanding Officer. For these actions, Philip, his Platoon Sergeant, and each of their gunners received Bronze Stars which were awarded on January 23, 1945. You can read about these incidents in Philip's memoirs.
The 818th supported operations along the Saar until December, then transferred to the Ardennes sector. Participating in the race across Germany beginning in March, 1945, they converted to the M36 tank destroyer prior to mid-April and ended the war in Kienberg, Czechoslovakia. The unit received credit for the campaigns of Normandy, Northern France, Rhineland, Ardennes-Alsace and Central Europe. In addition to the Bronze Star, Philip received a Purple Heart, the EAME, American Defense Service and WWII Victory medals among other awards.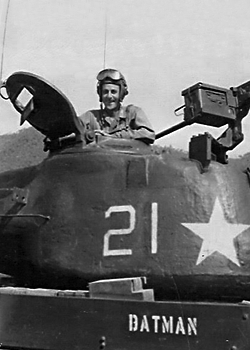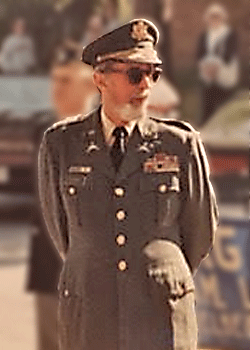 The photo above left is Philip in what looks like a late WWII or Korean era tank. The photo at right shows him participating in a Memorial Day parade.
Although he left active service, Philip joined the Army Reserves on November 3, 1945, and in his civilian life, worked as a bricklayer like his father. On July 23, 1946, he married the former Gloria Isreal who was born in the Bronx, NY, and was the daughter of William Isreal and Marion McGuire. The new couple made their home in Wantagh, Long Island, NY, and had four children, Carin, born in 1949, Kerry in 1953, Bridget in 1958 and Maura in 1960.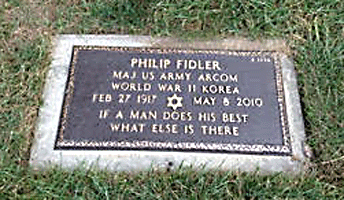 Philip was called back into service during the Korean war and finally retired from the military sometime in the 1970's at the rank of Major. We do not have details for all of his Army Reserve assignments but he did serve as part of ARCOM (Army Reserve Command). He was a member of the bricklayer's union and was elected as their treasurer for several terms. He was particularly proud of the degree in Labor Relations he received from Cornell University.
Philip passed away on May 8, 2010, and was buried in the Calverton Military Cemetery in Calverton, NY. I want to thank Philip's daughter, Bridget, for providing the information and photos for this tribute.