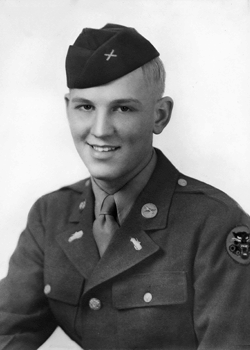 Elmer G. Friedhoff
Biography: Elmer George Friedhoff, "Buddy or Bud", was born on June 1, 1924, in Cincinnati, Ohio. He was the son of Elmer Heinrich and Katherine Iber Friedhoff, graduating from local schools in 1942.
Service Time: Bud enlisted in the Army on December 3, 1942. He was assigned to Company C of the 821st Tank Destroyer Battalion where he served as a radio operator. His duties included installing and operating radios in the field but he also drove various vehicles in the unit, such as the M-20 Scout vehicles and jeeps. There was more than one occasion when he was needed to drive officers around.
He shipped out with the unit, from the port of Boston, on April 6, 1944, and arrived in England on the 17th. After some additional training and preparations, they boarded transports and disembarked at Omaha Beach, Normandy, France, June 26th with towed 3-inch anti-tank guns.
They supported the capture of St. Lô and subsequent breakout before entering Brittany in August where they supported the capture of Brest by September 18th. The unit moved east in late September and into Holland. They conducted operations against the Siegfried Line in October near Aachen, Germany, and then were transferred to Ubach, Germany, in November to support the drive toward the Roer River. The 821st converted to M10 self-propelled tank destroyers beginning in December and crossed the Roer beginning on February 23, 1945. They were withdrawn from line during March and Company B supported operations against Ruhr Pocket in April. The Battalion then marched east to Elbe River and took up occupation duties on April 27th.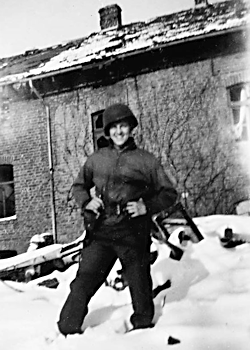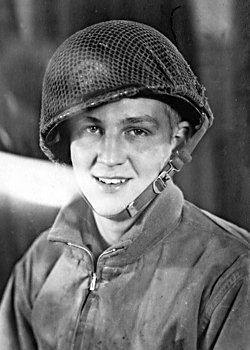 Bud received credit for each of the units' four campaigns of Normandy, Northern France, Rhineland and Central Europe. He also received the EAME, the WWII Victory and the American Campaign Medals. He left the service at the rank of Technician 5th Grade.
Now back in the U.S., Bud continued his education at the University of Cincinnati Business College and graduated in 1948. In 1947, he married the former Ethel Schubert who was born in Cincinnati, OH and the new couple would have two children, Diana and Gary. Bud worked as an accountant in Wisconsin for a year, then he worked for Procter and Gamble in their Finance/Accounting Department in Cincinnati. After he left Procter and Gamble, Bud and his wife owned and operated two ice cream stores while he started his own accounting business in 1958. He continued to work at his own company until he was 79.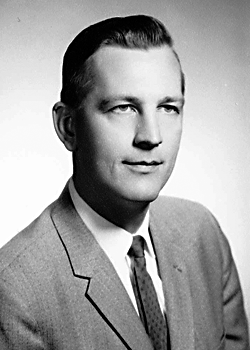 In his spare time, he enjoyed woodworking, golf, bowling, traveling, painting and lapidary (working with gems) including faceting. He was a member of the Boy Scouts, ROTC, Winton Place Veterans, Masons and was both a member and past president of the Cincinnati Chapter of Public Accountant's Society of Ohio.
Bud passed away in September, 2007, and was buried in Spring Grove Cemetery, Cincinnati, Ohio. I want to thank Elmer's daughter, Diana, for providing the photos and information for this tribute. She additionally provided a number of photos of personnel, equipment and scenes from the 821st.