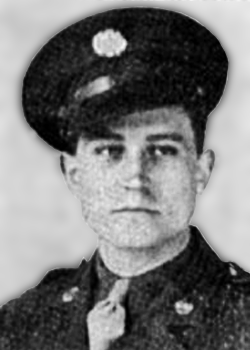 John B. Frasure
Biography:  John B. Frasure was born on March 6, 1917, in Flemingsburg, Kentucky. He was one of three sons and two daughters born to Robert S. Frasure and Lida A. Hobson. His draft card, signed October 16, 1940, and the 1940 U.S. Census both show him employed as a clerk in his father's retail store in Louisa, KY. His enlistment record shows he completed one year of high school and lists his occupation as semiskilled chauffeurs and drivers.
Service Time:   John entered the Army on July 9, 1942, in Huntington, West Virginia. We don't have an exact date, but at some point he was assigned to Company B, 772nd Tank Destroyer Battalion. The 772nd was originally a self-propelled tank destroyer unit but they were converted to a towed anti-tank gun battalion during training. They shipped from the New York port on September 29, 1944, and arrived in England on October 10th. Landing in France on December 20th, they entered the line near Birgel, Germany, on December 22, 1944, joining up with the 83rd Infantry Division. Fighting in Belgium in January, 1945, they moved with the 75th Infantry Division, and arrived in Raves, France on the 29th. On February 1, the unit moved to Sainte Marie aux Mines, France.
On the 2nd, Company B was attached to the 291st Infantry Regiment and the gun platoons were in positions near Widensolen and Andolsheim, France. Unit records indicate that Corporal Frasure was killed on this day when the jeep he was in struck a German mine in a road near Andolsheim. Two other members of Company B, Lt. Northrup and Sgt. Zyla,  were wounded in an incident described in exactly the same manner and we believe it is likely all of them were riding together in the same vehicle.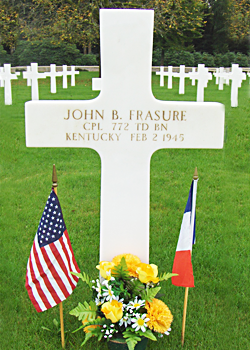 Corporal John B. Frasure was buried in the Epinal American Cemetery and Memorial, Epinal, Departement des Vosges, Lorraine, France. We would like to thank John for making the ultimate sacrifice for his country. Thank you to Find a Grave contributor Andy for use of the grave marker photo.